Serpent – Judas Belgian Blonde (473ml)
Beer Style

Belgian BlondeNot as bitter as Belgian-style tripels or Golden Strong ales. The overall impression is balanced between light sweetness, spice and low to medium fruity, ester flavours. Learn More

Tasting Notes

Baking SpiceFruityrefreshing
Spryfields first craft brewery – Serpent opened their doors in the Fall of 2020. Long time home brewer Glen O'Keefe has always had a deep appreciation for Belgian beer, notably the crazy and complex yeast strains used in many Belgian beers. Serpent brewery focuses on Belgian-inspired ales, and now has a taproom, and patio. Production is small, with the hopes to expand organically. We are very happy to have them on our shelves!
Tasting Notes
Aromas of subtle sweet grain balanced by herbal and earthy noble hops that lead into a palate that's rustic, but mild malt sweetness balanced underneath fruity and citrusy yeast contributions and noticeable bitterness.
Method
Belgian Blonde Ales are fermented with Belgian yeasts, that can often contribute a spicy and fruit profile after fermentation. They are reminiscent of German Weissbiers but are different in their own way. The addition of Belgian candi sugar also allows the beer to ferment drier, leaving a pleasantly refreshing finish.
Our Thoughts
I love the Serpent Judas Blonde- it's a style that seems simple upfront but then slowly reveals more flavour and character as you continue to sip. At first there is a clean flavour and light mouthfeel, which is followed by sweeter notes of malt and grain; typical of this Belgian style! Drink on its own or at your next outdoor BBQ.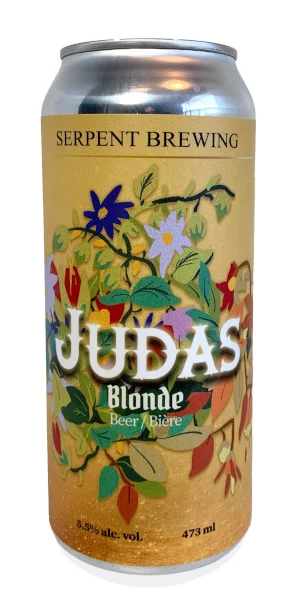 You may also like...