Shipbuilders – Bavarian Cider (500ml)
Sub-Region

Petite Riviere
Shipbuilders Cider is a side brand of Petite Rivière winery in the beautiful South Shore of Nova Scotia. The cidery continues Nova Scotia's 400-year history of making cider from their world famous orchards. Shipbuilding and cider making, true craftsmanship that runs generations deep in Nova Scotia.
Tasting Notes
Made with Bavarian beer yeast, this Bavarian Cider is a medium-dry blend with notes of soft herbal spices. Enjoy its delicious flavours of bright yellow and red apples, lemons, and a hint of refreshing grapefruit.
6.5% abv

Method
Bavarian beer yeast, more commonly known as "Weissbier" yeast, is the unique ale yeast that ferments one of Germany's most iconic styles; the Hefeweizen. During fermentation the yeast produces both esters and phenols, common for ale yeasts, but this one creates flavours of bananas, bubblegum, clove, and pepper spices.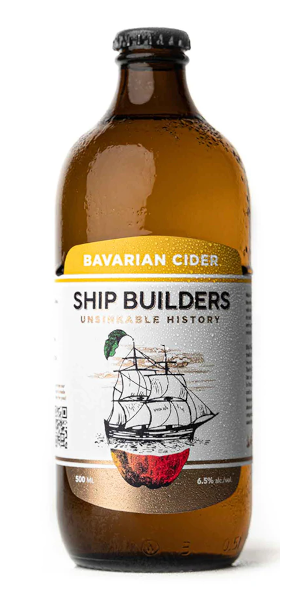 You may also like...