Sober Carpenter – Non Alcoholic Red Ale (473ml)
Beer Category

Amber BeerNon-Alcoholic

Beer Style

Irish Red AleFeaturing approachable hop bitterness, this typically amber-coloured ale can often have a medium, candy-like caramel malt sweetness. Learn More

Tasting Notes

BalancedMaltySmooth
Sober Carpenter is a Canadian microbrewery based in Montreal, Québec and specializes in brewing non-alcoholic beers…but not just any non-alcoholic beers! Real craft beers made with high quality ingredients, so flavourful you'll hardly believe they're alcohol-free.
The brewery was created in 2019 by two Canadian brothers who have always been passionate about beers but wanted to reduce their alcohol consumption after starting their families. Unfortunately, they realized that the current offerings were very limited and not to the standards they expected in taste and mouthfeel after years of consuming craft beers… and just like that, Sober Carpenter was born.
Tasting Notes
NON-ALCOHOLIC BEER
Balanced, easy drinking beer with a moderate malt character full of caramel and toasted notes. The deep reddish copper colour comes from crystal malt and a small dose of highly kilned grain, including roasted barley.
Pairs well with everyday recipes like roasted or grilled chicken, roasted veggies and cheddar.
Method
Brewed in the Irish style with Windsor yeast, you'll notice the malt focused aromas of this medium bodied ale. The roasted barley translated into subtle notes of coffee and caramel.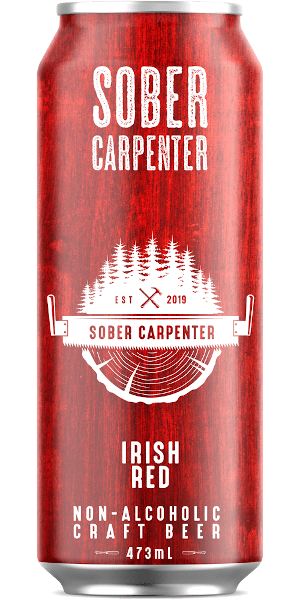 You may also like...
Express Shipping!
For select shipping postal codes, this product may be eligible for Express Delivery! Click here to learn more.