Sommariva Prosecco Brut DOCG (750ml)
Food Pairing

AperitifDeep Fried FoodsSeafood

Sub-Region

Conegliano e Valdobbiadene
The Sommariva family has been cultivating vines in the Veneto region for generations; originally they grew French and Italian varietals and sold their fruit to wine producers. In the 1970s Caterino Sommariva saw potential in certain sites for growing Glera grapes for Prosecco production and began to focus solely on growing quality Glera to produce Prosecco. They expanded their vineyards within the hills of Conegliano and Valdobbiadene, a region that began to gain recognition in the late 1980s for this beloved style of sparkling wine. Caterino and Urbana's daughter Cinzia remembers watching her parents work endlessly throughhout the year in the vineyards, at harvest time and in the cellar. She initially chose another life path and studied marketing, yet as she got older, she regularly returned to the estate and saw her parents' work through another lens and eventually she (re)discovering her own passion for the vine and wine. Today Cinzia is an enthusiastic and hard working partner in this family run estate.
Tasting Notes
The vines are sustainably farmed, hand harvested, de-stemmed and gently pressed then the must settles for 12 hours before the clear juice is drawn off the sediment to ferment in stainless steel for 15-20 days. A mixture of yeast and sugar is added after primary fermentation to initiate the secondary fermentation and create those desirable bubbles. The sparkling wine is then chilled, filtered and bottled. The wine is characterized by rich citrus and fresh herb aromas and light notes of bread crust. The palate has lots of energy and a fine perlage that makes for persistence on the palate and a clean fresh mouthfeel. You can enjoy this as an aperitif, with a range of fish dishes, sushi, sashimi, vegetable antipasti. If you are tasked with pairing a multi course meal with many different types of food, a sparkling wine such as this is a great choice.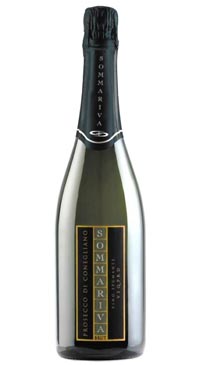 You may also like...