Sourwood – Blue Nat Sparkling Blueberry Wine (750ml)
Tasting Notes

ComplexDryrefreshing
Sourwood Cider makes bone dry, sometimes tart, unfiltered ciders. Based in the Annapolis Valley, they source fresh-pressed juice from local apples grown in the Annapolis Valley. Sourwood works with wild and alternative yeasts, and focuses on creating unique flavour profiles. They are currently experimenting with ciders aged on fruit, and are starting to release wine/grape co-ferments.
Tasting Notes
Made exclusively for Grape Witches in Toronto, and a little bit for Bishop's Cellar.
A sparkling wine made entirely of wild Nova Scotia blueberries? Yes please! Only 228 bottles were produced of Blue-Nat, a sparkling blueberry wine from Halifax's Sourwood. It's like a mash-up of your favourite new wave cider with the most gluggable sparkling red. Wild fermented for three weeks and bottled with no additives, fining or filtering, it's all soft, friendly fizz and deep, savoury aromatics, like a juicy Gamay meets an herby Cab Franc. Think macerated blueberries with the squelch of muddy blackberries, chewing on spearmint sprigs, cassia bark, fresh mulberry, an entire bushel of coronation grapes, tart berry acid & a clean, juicy finish. Drink it ice cold for optimum refreshment & pair with your most decadent picnic spreads – pimento cheese, spicy tinned fishies & a red checkered blanket that can handle a stain or two!
Method
Sourwood sourced 100% wild nova scotia SPRAYFREE blueberries from Tatamagouche, NS. The berries were tossed in whole, letting the juices that escape under the weight and agitation of punching down and pumping the juice over to start to ferment. The liquid and skins macerated for 2 to 3 weeks as a whole, and then were racked off.
This is racked a couple of times before bottling to clarify. But Blue-Nat was bottled before the primary is finished fermenting, so there is always yeast and sediment in the bottles. As a true Pet-Nat contains before disgorging.
100% nova scotia, 100% blueberries. No filters, no nothing.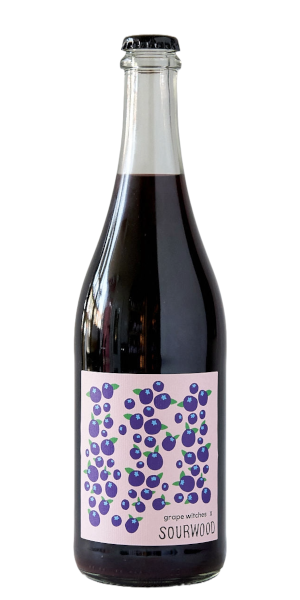 You may also like...