Sourwood Dirty Rose Cider (330ml)
Sourwood Cider makes dry, sour, unfiltered ciders. Based in the HRM, they source fresh-pressed juice from local apples grown in the Annapolis Valley. Sourwood works with wild and alternative yeasts, and focuses on creating unique flavour profiles. They are currently experimenting with ciders aged on fruit, and plan to release a "mature" product line in the coming months – so keep an eye out!
Tasting Notes
Red wine character with fresh red fruit aromas of cherry, cranberry, and floral aspects. Well balanced, with lively acidity and an earthy background character. It's a little less acidic than last year's blend. All can-conditioned.
Method
This years Dirty Rosé is a blend of young and mature barrel aged cider. Aged on a base blend of cider on a total of 700kg of Pinot Noir and Cab Franc pomace Sourwood snagged from Benjamin Bridge Winery. Picked out all the stems of the cab franc, leaving only skins and seeds. For the Pinot, they left the stems in the blend for more astringent grit! Some of the barrels in the blend were aged over 24 months, other barrels as young as 6 months. Blend of NS grown apples.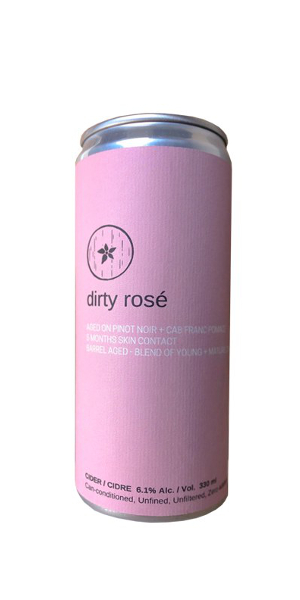 You may also like...