Sourwood Piquette Cider (355ml)
Sourwood Cider makes dry, sour, unfiltered ciders. Based in the HRM, they source fresh-pressed juice from local apples grown in the Annapolis Valley. Sourwood works with wild and alternative yeasts, and focuses on creating unique flavour profiles. They are currently experimenting with ciders aged on fruit, have started to release more mature offerings with deeper complexity.

Tasting Notes
An easy going low abv option, this piquette is juicy and fresh, with bright aromas of citrus, bright apple, and subtle honey notes on the finish.
3.0% abv
Method
Cox Orange Pippin apple pomace and water. All native yeast fermentation. Raw honey added at time of packaging.
Piquette is a style of fermentation done by using the leftover pomace of a fermentable fruit (like apples, pears, or grapes) to extract the last of the remaining sugars. The pomace is mixed with water and fermentation is allowed to happen, this creates a lighter, naturally lower alcohol beverage.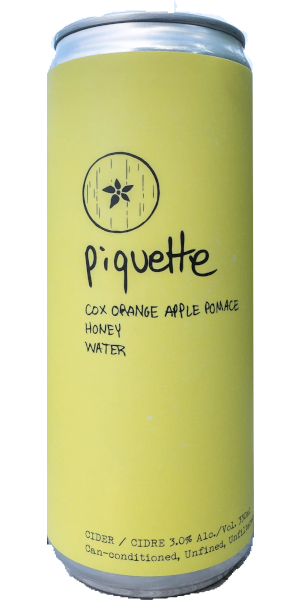 You may also like...