Sourwood Plumbum Cider (355ml)
Sourwood Cider makes dry, sour, unfiltered ciders. Based in the HRM, they source fresh-pressed juice from local apples grown in the Annapolis Valley. Sourwood works with wild and alternative yeasts, and focuses on creating unique flavour profiles. They are currently experimenting with ciders aged on fruit, and plan to release a "mature" product line in the coming months – so keep an eye out!
Tasting Notes
Vibrant aromas of fresh plums mingle with complex apple notes, and subtle barrel character. The palate has refreshing fruit notes and a mouthfeel that's bright with acidity, moderate carbonation, and a dry finish.
Method
Sourwood says Plumbum is the most natural cider they've released to date! They allowed Northern Spy juice to spontaneously ferment before letting it mature in neutral oak barrels for about 6 months. Then, they racked the barrels onto a gorgeous bed of Damson Plums. Aged on the skins, flesh, pits, and even a few leaves (extra tannin structure!) for another 6 months. At packaging, the cider is can-conditioned with fresh apple juice to allow for a totally natural carbonation.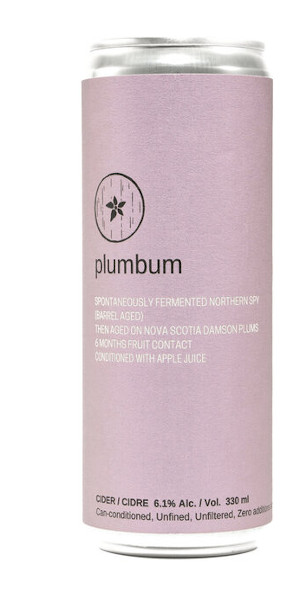 You may also like...