Steam Whistle Pilsner (473ml)
What started as a fireside dream hatched by "The Three Fired Guys" has turned into one of Canada's most successful breweries. They still retain the entrepreneurial spirit, remain fiercely independent and truly Canadian.
Steam Whistle has spent 20 years perfecting their Pilsner and they back that experience with one of the most sophisticated Quality Assurance programs in North America. When you reach for a Steam Whistle, you can be confident you are getting an exceptional beer, every time.
Tasting Notes
Clean and bready aromas of freshly baked sourdough mingle with the floral and spicy notes of the Saaz hop. The mouthfeel is light and refreshing, with a clean, dry finish.
5.0% abv
Method
Wining many brewing awards, Steam Whistle Pilsner is brewed with pure Canadian spring water, an all-malt grain bill using Canadian barley, and European Saaz hops. The beer is lagered at cold temperatures for extended periods of time to create a smooth, and crisp mouthfeel. It is then bottled cold filtered, and non-pasteurized.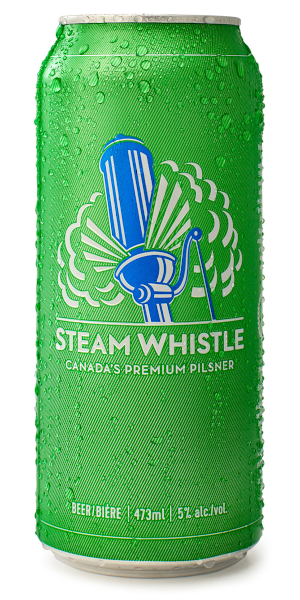 You may also like...