Stiegl – Himbeere Raspberry Radler (500ml)
Tasting Notes

FruityOff-Dryrefreshing
Stiegl is a private brewery with centuries of tradition. Sustainability, regionalism, adding local value and, above all, the quality of their beers and services have been the top priorities for 525 years. However, this quality is only possible because they use nothing but the best locally-sourced ingredients. The values Stiegl has been committed to since the brewery was founded have made them the leading private brewery in Austria.
Tasting Notes
Bright aromas of freshly squeezed raspberries, orange zest, and subtle light beer notes. An extremely refreshing palate that's bursting with zippy raspberry notes with just enough beer flavour to balance it all out. Very subtle sweetness on the finish. Drink cold and enjoy!
2.9% abv
Method
The Stiegl Raspberry Radler is an invigorating drink that contains only natural fruit sugar and no artificial sweetener. In German, "radler" means "cyclist" and this beer style is often referred to as a "bicycle beer" because of athletes who prefer to indulge in this type of brew as they bike through the Alps. The beverage provides energizing hydration and enjoyment without inebriating, especially in high-altitude locations.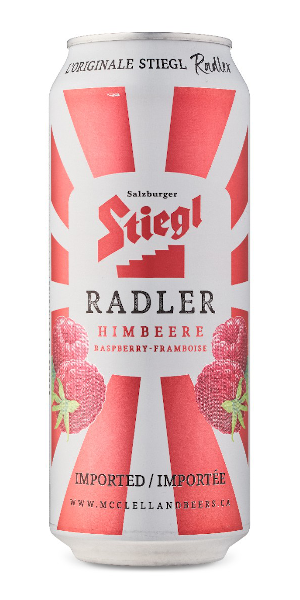 You may also like...