Stillwell Brewing – Kompakt Kolsch (473ml)
Beer Style

Kölsch (Lagered Ale)Ale yeast is used for fermentation, then the beer is lagered for an extended period of time to create an exceptionally crisp and clean mouthfeel. Learn More

Tasting Notes

LightrefreshingSmooth
From the folks behind arguably one of the city's best beer bars, brewing and packaging at their new facility on Kempt Rd., Stillwell Brewing made its name fermenting and blending traditional oak-aged farmhouse ales but recently has focused its efforts on crafting staple styles for the home market, beers like Pils, Bitter and Kölsch. Top notch lagers and ales to enjoy with friends, or hog to yourself.
Tasting Notes
Kompakt Kölsch is Stillwell's homage to Köln, Germany's great lagered ale. Using only traditional ingredients and techniques, Kompakt is Stillwell's easiest drinking beer, perfect for the beach, post-lawn mowing, or in a pub with a meal. Noble hops on the nose present an herbal, floral character while the malt shows light cracker and honey notes. A naturally carbonated mouthfeel makes the beer very soft and refreshing.
Method
Stillwell makes Kölsch the same way it makes all of its beers: traditionally. This includes capturing natural carbonation in the cellar to provide beautiful, lasting foam, and decocting the mash on the brewhouse, further adding to the beer's taste and texture.
Our Thoughts
Germany is known for producing some of the best, most traditional styles of beer in the world and Stillwell's Kompakt Kolsch is a wonderful tribute to the Köln (Cologne) style of lagered ale. This is a clean, soft ale that drinks equal parts refreshing and flavourful- think mild hops with a subtle graham cracker flavour! This is always my choice on a hot summer day.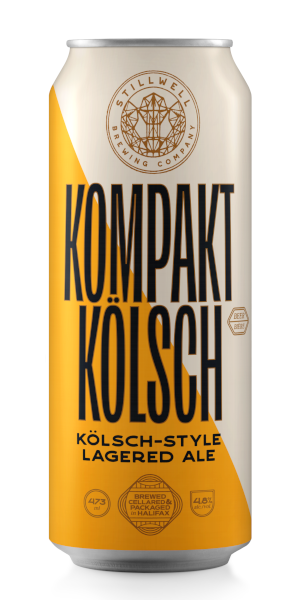 You may also like...
Express Shipping!
For select shipping postal codes, this product may be eligible for Express Delivery! Click here to learn more.