Tanner Brewing – Imperial Chai Milk Stout (355ml)
Beer Style

Milk StoutSweet Stout, also referred to as Cream Stout or Milk Stout, is black in colour and uses lactose sugar. Intolerant? This is one to avoid. Learn More

Tasting Notes

MaltyrichSpicy
After years in the restaurant industry, Dan Tanner started to shift his focus to wine, and while enrolled in sommelier classes, he began to take interest in beer. Fast forward – after a few years of slow growth from his garage, to farmers markets, to recently, a taproom in Chester, Dan has certainly taken the time to do things right. His beers are always a joy to drink, when you can find them. Bishops Cellar is very happy to finally be able to showcase Tanner Brews to even more folks around the province!
Tasting Notes
This stout pours inky black and is full of decadent aromas of dark chocolate, espresso, black licorice, and chai tea spice that lead into a bold palate with many of the same flavours. The texture is rich and creamy from both the milk sugar, and elevated alcohol. The finish is long and with a lingering spice that is slightly accentuated by the alcohol warmth.
Method
Sweet stout, also referred to as cream stout or milk stout, is black in colour. Malt sweetness, chocolate and caramel should dominate the flavour profile and contribute to the aroma. It also should have a low to medium-low roasted malt/barley-derived bitterness. Milk sugar (lactose) lends the style more body. This beer does use lactose sugar, so people with an intolerance should probably avoid this style.
Blended Chai Milk Stout is an Imperial Milk Stout with Chai Tea. Half of this stout spent 6 months in Ironworks Distillery rum barrels. The other half was fermented in tank and after fermentation was dry chai'd (that's a thing right?) with chai tea from the Tea Brewery in Mahone Bay. Then the two beers were blended together into a lovely, complex big beer.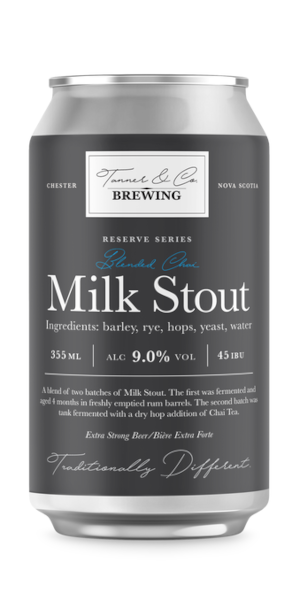 You may also like...