Tantalus Riesling (750ml)
Food Pairing

ThaiCurrySushi

Sub-Region

Okanagan Valley
Tantalus vineyards and winery is situated on the eastern slopes of the Okanagan Valley, overlooking the shores of Lake Okanagan and the City of Kelowna. Originally known as Pioneer Vineyards, the site was first planted to table grapes in 1927 and today is known as the oldest continuously producing vineyard in British Columbia.
Tantalus was established in 2004 when Proprietor Eric Savics was presented with the opportunity to acquire one of the Okanagan Valley's premier vineyard properties. After tasting several vintages of wines made by the former owner, Eric felt this was indeed a very special vineyard. He, along with his team, established the site's ultimate potential would be fully realized by focusing on a small, terroir-driven line of wines made from Riesling, Pinot Noir and Chardonnay.
The old vine plantings – 1978 Riesling and 1985 Pinot Noir and Chardonnay became the backbone of the vineyard. Other varietals were removed and new plantings of the 3 flagship varietals commenced in 2005. The vineyard would not only have considerable vine age as its anchor, it would grow to have superior clone variation as well.
Tantalus' eye catching labels were created by Tahltan, Tlingit artist, Dempsey Bob.
Tasting Notes
Light yellow hue. Pronounced nose of Meyer lemon and lime zest, there is a touch of the tropics here too – mango and pineapple. The aroma settles into a halfway point of stone fruits; fresh nectarine and apricot. The palate is focused and yet broad and mouth-filling, quintessential flavours of kiwi and passion fruit, fresh Granny Smith apple and green melon. The hallmark Tantalus acidity is there in spades but the wine has weight and persistence to provide lovely tension. Overall, a vibrant, pure and balanced Riesling.
Method
Hand-picked at optimal ripeness from a variety of blocks, some of which date back to the late 70's. Gently whole-bunched pressed, once in the cellar, ferments were inoculated after a short settling period with a variety of yeasts. Each parcel was fermented separately in stainless steel tanks with individual ferments handled uniquely as part of the overall "blend" and in order to achieve the best point of balance expressed from the vintage. The wine was aged cold on gross lees in separate batches before blending and bottling in the last week of February 2020.  10 g/L RS.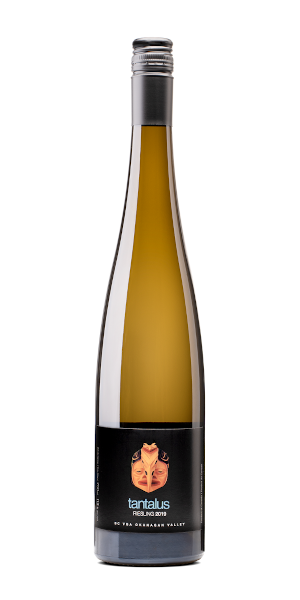 You may also like...