Tata – Kitty Clyde Double IPA (473ml)
Beer Style

Double IPAHop character is fresh and evident from the utilization of any variety of hops. Alcohol content is medium-high to high and notable with a medium-high to full body. Learn More

Tasting Notes

BitterJuicyTropical
The Tatamagouche Brewing Company (commonly referred to as "Tata") is a family owned and operated craft brewery located in the heart of Tatamagouche, Nova Scotia. In 2014, the family converted an old butcher shop into a brewery, and have since added several additions to the sides and back of the building to help accommodate their growth. Tata Brew is one of only a handful of Certified Organic breweries in Nova Scotia, and their beers have won awards provincially as well as nationally.
Tasting Notes
Pretty and bold, Kitty Clyde Double IPA boasts it all. Named after a brigantine built in Tatamagouche in 1857, this DIPA displays low bitterness with punches of citrus, peach and passionfruit from the large additions of Vic Secret and Galaxy hops.
Method
The Double IPA features high hop bitterness, flavour and aroma. Hop character is fresh and evident from the utilisation of any variety of hops. Alcohol content is medium-high to high and notably evident with a medium-high to full body. This style intends to exhibit the fresh, evident character of hops.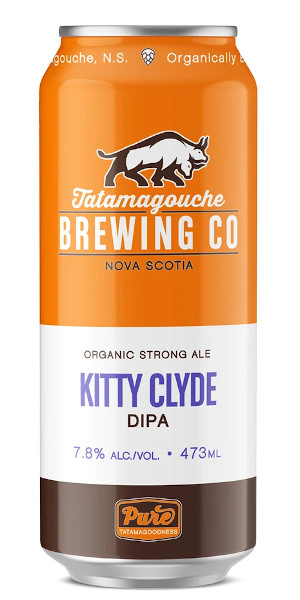 You may also like...
Express Shipping!
For select shipping postal codes, this product may be eligible for Express Delivery! Click here to learn more.