Tata – Intertidal: Sabro Session IPA (473ml)
Tasting Notes

LightSmoothTropical
The Tatamagouche Brewing Company (commonly referred to as "Tata") is a family owned and operated craft brewery located in the heart of Tatamagouche, Nova Scotia. In 2014, the family converted an old butcher shop into a brewery, and have since added several additions to the sides and back of the building to help accommodate their growth. Tata Brew is one of only a handful of Certified Organic breweries in Nova Scotia, and their beers have won awards provincially as well as nationally.
Tasting Notes
Low alcohol does not mean low flavour here! Full flavour, and full bodied with tons of mint, coconut and tropical flavours from Sabro hops, featuring a new yeast called Hydra from Escarpment Labs.
3.5% abv
Method
The next installment of Tata Brews new Intertidal series, where the brewers explore the world of hops and create different versions based on interesting hop combinations. Something a little different, with a lot of personality.
The Sabro hop is becoming a well known hop variety from the US.  It was developed by the Hop Breeding Company and released in 2018. Sabro is an aroma hop that is notable for its complexity of fruity and citrus flavors. It imparts distinct tangerine, coconut, tropical fruit, and stone fruit aromas, with hints of cedar, mint, and cream.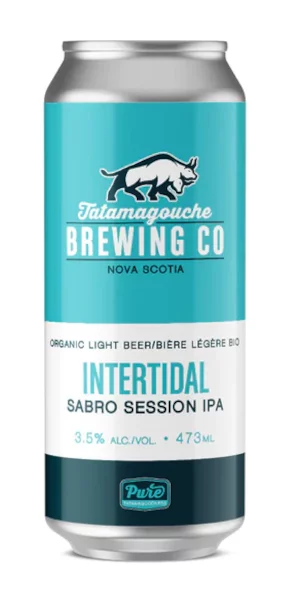 You may also like...