Tata – Old Fangled Brett Barrel Aged Mild Ale (355ml)
Beer Style

Mild AleAmber-coloured ale with a low alcohol range, often between 3.5-4.5% ABV. English hops are used to give herbal, woodsy, and floral aromas. Learn More

Tasting Notes

ComplexMaltySmooth
The Tatamagouche Brewing Company (commonly referred to as "Tata") is a family owned and operated craft brewery located in the heart of Tatamagouche, Nova Scotia. In 2014, the family converted an old butcher shop into a brewery, and have since added several additions to the sides and back of the building to help accommodate their growth. Tata Brew is one of only a handful of Certified Organic breweries in Nova Scotia, and their beers have won awards provincially as well as nationally.
Tasting Notes
Old Fangled – Cognac Barrel Aged English Mild with Brett.

With complex aromas of cherries, dates, light chocolate, and oak. Cognac barrel character and subtle brett yeast mingle to create a unique array of notes not normally found in an English Mild Ale. The palate sees fruit notes that mix with toasted bread, treacle, pain au chocolat, and leathery funk. There is subtle acidity that blends nicely with the dry finish.
Best enjoyed at a cool, but not cold temperate to fully appreciate the character.

Method
You may recall "Darling" from Tata, a lovely 3.5% abv English Mild Ale. The brewers took some of that Mild Ale and transferred it into a used Cognac barrel along with Brett Lambicus yeast and let get all funky for 10 months. The natural yeasts inside the barrel along with the Brett yeast create a finished beer that is better than the sum of its parts. The beer was can conditioned (refermented in the can) to create a tightly woven carbonation texture.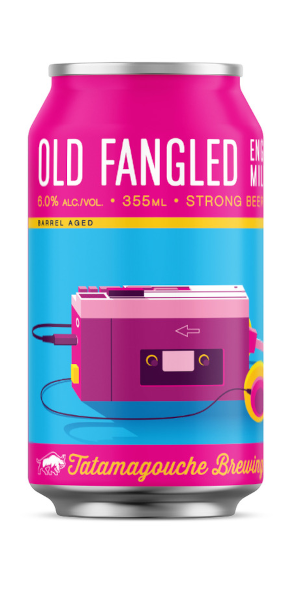 You may also like...