Tata Pausa Pranzo Italian Pilsner (473ml)
Beer Style

Italian Pilsner
Tata Brew is the family owned and operated microbrewery located in the heart of Tatamagouche, Nova Scotia. In 2014, the family converted an old butcher shop into a brewery where they craft small batches of award winning beer.
Tasting Notes
Very hoppy for a pilsner, but not in the way you think of hoppy in the pale ale sense. This beer has loads of spicy, herbal, and floral aromas that mingle with biscuit and fresh bread dough aromas from the pilsner malt. The mouthfeel is soft and fluffy, with moderate carbonation, and a firm bitterness that cleans up the finish.
5.0% abv
Method
Pausa Pranzo Italian Pilsner is lovingly named after the enviable Italian Lunch Break. Meant to be enjoyed without rushing, Pausa Pranzo is lightly dry hopped with Calista hops, emphasizing Noble hop character and a pronounced bitterness.
The Italian Pilsner style came about in the 90's when a Northern Italian brewery created the first iteration of the style. A German pilsner that's been aggressively dry-hopped with noble German varieties.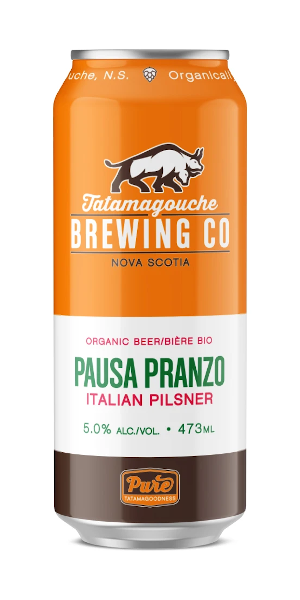 You may also like...