Tata Stronger Than You Think IPA (473ml)
Tata Brew is the family owned and operated microbrewery located in the heart of Tatamagouche, Nova Scotia. In 2014, the family converted an old butcher shop into a brewery where they craft small batches of award winning beer.
Tasting Notes
Vibrant and fresh aromas of pineapple, mango, guava, and citrus that dominate the nose. The pallet is light on its feet with flavours of fresh tropical fruits, big Five-Alive vibes. Everything wraps up nicely with moderate carbonation, clean but balanced bitterness, and extreme take-another-sip factor.
6.3% abv
Method
This is an IPA Tata Brew did in collaboration with Truro Buzz, and the Leukemia And Lymphoma Society of Canada. All funds are going towards the leukemia and lymphoma society of Canada.
Stronger Than You Think is an New England style of IPA that's brewed exclusively with Mosaic, Sabro, and Lotus hops. All of these hops help contribute huge tropical and citrus aromas and flavours. This beer is dry hopped excessively to create an intense aromatic profile without all the harsh bitterness.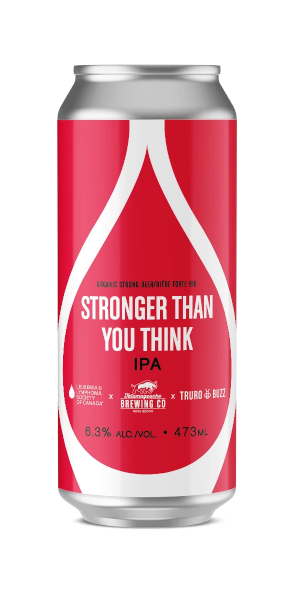 You may also like...