Tata – Warm Winds Coffee Porter (473ml)
The Tatamagouche Brewing Company (commonly referred to as "Tata") is a family owned and operated craft brewery located in the heart of Tatamagouche, Nova Scotia. In 2014, the family converted an old butcher shop into a brewery, and have since added several additions to the sides and back of the building to help accommodate their growth. Tata Brew is one of only a handful of Certified Organic breweries in Nova Scotia, and their beers have won awards provincially as well as nationally.
Tasting Notes
Warm Winds is packed with a beautiful coffee bean character, and is supported by it's rich malt profile. Incredibly smooth with a long finish, the coffee flavours really develop as the beer warms up.

7.0% abv
Method
Named after the warm winds that blow off the Gulf of Mexico onto the highland coffee growing region of Northern Guatemala, Huehuetenango. After a few weeks of conditioning, Tatabrew went down to Truro's Aroma Maya Coffee to fill bags of their Huehuetenango medium roast coffee right out of their roaster. They hurried back to Tata to add the whole beans into this porter, and a fantastic match-up was born!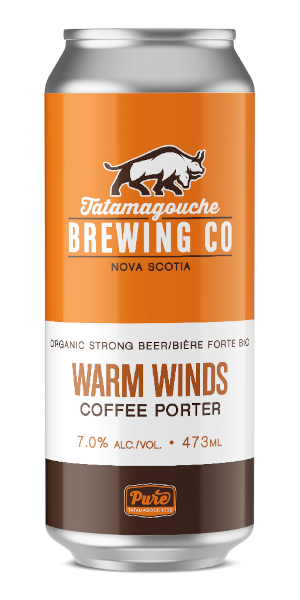 You may also like...