Tata Rushtons Peach Berliner Weisse (473ml)
Beer Style

Berliner Weisse
Tata Brew is the family owned and operated microbrewery located in the heart of Tatamagouche, Nova Scotia. In 2014, the family converted an old butcher shop into a brewery where they craft small batches of award winning beer.
Tasting Notes
Very vibrant aromas come out of the glass with big notes of peach, citrus, and a subtle wheat note. The palate is light and refreshing with heaps of fresh peaches packing a flavour punch. Acidity is firm but not overpowering – this is a really vibrant and refreshing sour!

Method
Rushtons Peach Berliner Weisse features the same base beer as Guava Heist, only with a different fruit showcased. Berliner Weisse are a traditional style of Germany, they start off as a low abv wheat beer that's intentionally infected with souring bacteria to produce acidity. The practice also usually sees the addition of fruit juice, puree, or syrup to enhance the flavour and tame acidity. In this case, Peach puree is added.
3.5% abv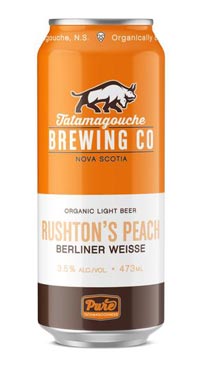 You may also like...