Telegramme Chateauneuf-du-Pape (750ml)
Sub-Region

Chateauneuf-du-Pape

Food Pairing

GameRed Meat
One cannot think of Châteauneuf-du-Pape, the most celebrated cru of the Southern Rhône, without thinking of Domaine du Vieux Télégraphe. The Brunier family is legendary in its own right, having been rooted to the enigmatic plateau known as "La Crau" for over one hundred years. The wines of Vieux Télégraphe evoke the concept of terroir in its purest form: they reflect their dramatic climate, the rough terrain that defines the soil, their full sun exposure at a higher altitude, the typicity of the varietals with an emphasis on Grenache, and of course, the influence of their caretakers, the Brunier family. For many, La Crau is Châteauneuf-du-Pape's grandest cru.
Tasting Notes
Intensely fragrant wine with aromas of fresh red fruit and garrigue. It is juicy, with layers of berry fruit, anise and minerality.
Method
Telegramme is the second label of Vieux Telegraphe (the label is literally reversed). It is made with grapes from the estates younger vines and is crafted to be a more approachable style earlier on. This blend of 90% Grenache and 10% Mourvedre.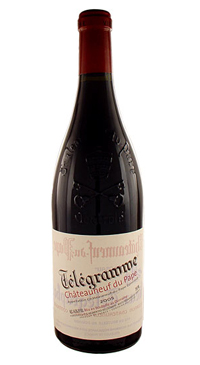 You may also like...