Tempest – Cold Wave Dry Hop Pilsner (440ml)
Beer Style

German PilsnerA lighter, more "snappy" texture; drier on the finish, often displaying more hop bitterness and aroma. Learn More

Tasting Notes

aromaticCrispDry
Gavin and Annika Meiklejohn met in a brewpub in Canada before traveling the world together and finally settling down in New Zealand. It was there, while working as a chef, that Gavin began home brewing in their garage in Christchurch. After friends visiting them in New Zealand would ask why they couldn't drink beer this good back in Scotland, it was a sign to move home and go professional.
In April 2010 they set up a ten barrel brewery in a disused dairy facility, and the Tempest story begun. Tempest brewery has gone on to win countless awards both locally, nationally, and internationally. They have shipped their beer all around the world to be enjoyed, and even made the Rate Beer Top 100 best breweries in the world list.
Tasting Notes
SOFT MALT WITH BALANCED BITTERNESS AND A NOTABLE HOP CHARACTER WITH SOME HERBAL AND CITRUS CHARACTER
NOSE
FRESH STRAW, BREADY YEAST, LIGHT CITRUS, CANTALOUPE MELON, HERBAL, LEMONGRASS
Method
German Pilsner should have a lighter, more "snappy" texture than a Czech-style. It is drier on the finish, and often displays more hop bitterness and more hop aroma. The hop aroma is (usually) of noble German hops, however Cold Wave uses modern German hops; in this case Huell Melon and Hallertau Blanc. These hops are known bright, vibrant aromas of honeydew melon, strawberry, lemongrass, and white wine. Low-colour Golden Promise malt and wheat were used in the grain bill to create a golden array of that classic Pilsner flavour.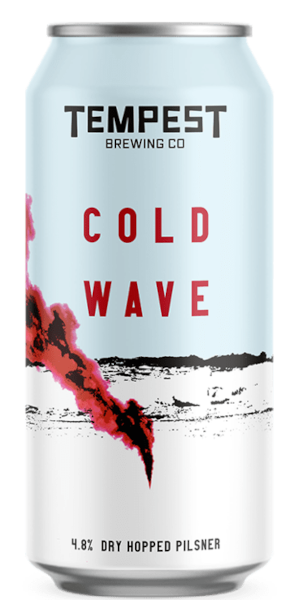 You may also like...