Tempest – Elemental Porter (330ml)
Beer Style

Robust PorterMore bitter and roasted malt flavour than an English-style Porter but not quite as much as a Stout. Learn More

Tasting Notes

ChocolateMaltySmooth
Originally hailing from Scotland, Gavin and Annika Meiklejohn actually met in a brewpub in Canada before traveling the world together and finally settling down in New Zealand. It was there, while working as a chef, that Gavin began home brewing in their garage in Christchurch. After friends visiting them in New Zealand would ask why they couldn't drink beer this good back in Scotland, it was a sign to move home and go professional.
In April 2010 they set up a ten barrel brewery in a disused dairy facility, and the Tempest story begun. Tempest brewery has gone on to win countless awards both locally, nationally, and internationally. They have shipped their beer all around the world to be enjoyed, and even made the Rate Beer Top 100 best breweries in the world list.
Tasting Notes
Pouring with a dense and persistent brown head and lacing. Fine aroma of dark chocolate, vanilla, coffee, and cigar box. The palate drinks with similar notes, along with hints of smoke and pine. A well balanced bitterness and moderate sweetness rounds out the end. This is a very well made porter!
Method
The Robust Porter features more bitter and roasted malt flavour than an English porter, but not quite as much as a stout. Their caramel and malty sweetness is in harmony with the sharp bitterness of black malt. Hop bitterness is evident. With U.S. craft brewers doing so much experimentation in beer styles and ingredients, the lines between certain stouts and porters are often blurred. Yet many deliberate examples of these styles do exist. 
Elemental Porter is brewed with the rare Bramling Cross hop, known for fruity notes of blackcurrant and pear, blackberries and plums. Golden Promise, Munich, and Rye malt create a foundation of complex dark, brooding, and spicy malt notes. 
Our Thoughts
Tempest is rated as one of the top breweries in the world and it's easy to see why. Aromas of rich coffee, toffee, vanilla with some slight notes of dried fruit make it hard not to picture sticky date pudding.

In the glass it's the perfect balance of bitterness and sweetness; drinking like a traditional English Porter with just a hint more fruit character coming from the Bramling Cross hops.
Express Shipping!
For select shipping postal codes, this product may be eligible for Express Delivery! Click here to learn more.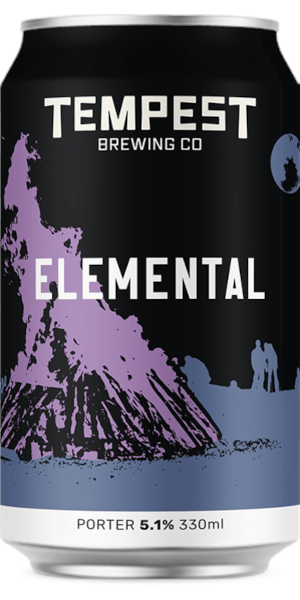 You may also like...