Terrescure Bernardeschi IGT (750ml)
Food Pairing

Pasta DishesPizzaRoast meats
Andrea Valiani is a wine industry veteran of more than 40 years but only started his latest venture, with his son Marco, in 2016. The family start-up currently produces only three wines from 10 hectares of vineyards but has already established distribution in Germany, Belgium, the Netherlands, Denmark, Hong Kong and now Canada.
The plan over the next few years for Andrea and Marco is to add more vineyard holdings, focusing on indigenous varietals and winemaking techniques and styles traditional to Tuscany, like the Governo all'uso Toscana.
Tasting Notes
Medium to full bodied with a soft and rich texture. Very ripe, raisin-like fruit with fine tannins, notes of leather, herbs and earth.
Method
A blend of 70% Sangiovese with 30% Merlot, all harvested by hand.  The wine is made in the traditional Tuscan "governo" method which is, similar (but slightly different) to the ripasso wines of the Veneto.  Grapes are harvested and partially dried (appassimento process) then the juice of those dried grapes is added to the the must (juice) of the regular harvested grapes and fermenting ensues.  The wine spends three months in French oak barriques.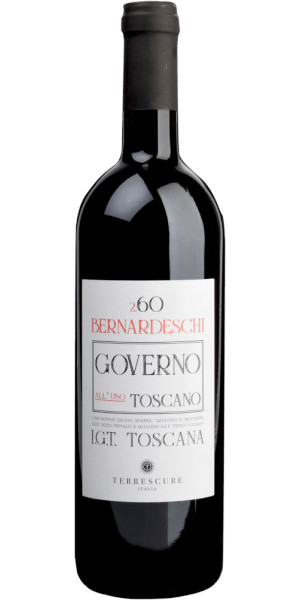 You may also like...