The Glenturret 7 Year Old Peat Smoked (700ml)
Tasting Notes

Orchard FruitSmokeSweet Oak
The earliest record of production at Glenturret is in 1763 which gives them confidence to state that The Glenturret is Scotland's Oldest Working Distillery. Having been visited through the centuries by writers and poets (including Robert Burns) Feted by Primes Ministers and Royalty and home to a long honour roll of skilled distillers, The Glenturret Distillery has long stood proud at the heart of Scotch Whisky.
Tasting Notes
From the distillery: Smoke drifts in, fruits appear, pleasant and warming. Candy sweetness lingers and soft, mellow peat finishes.
Method
Aged for seven years in American Oak Sherry seasoned casks, this bottling is the Glenturret's newest addition to their core range with 2022 being it's maiden release. 
Our Thoughts
Nose: I can't get enough of those sugar crisps, does anyone remember that cereal? Post Sugar Crisps? Because I certainly didn't until I smelled this Scotch and then it all came rushing back to me. We've got some salted caramel, vanilla, leather and horse as well.
Palate: Balanced peat smoke, right from start to finish. Toffee, vanilla. Very bright and fresh.
Finish: Tangy orange, cinnamon and clove on the lovely finish.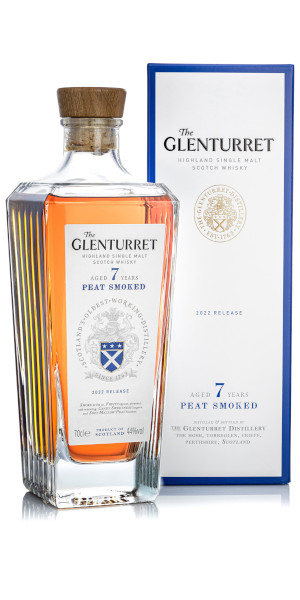 You may also like...