Trailway – Rype APA (473ml)
Trailway started as a local group of friends in Fredericton, NB, that started brewing beer on a small 1 Barrel (31 Gallon) system in a basement, just selling small amounts to local pubs. After a year of hard work producing some well-received quality beer, they decided to take the idea to another level, so in May of 2016 they opened a 10 barrel brewery and tasting room on Main Street.
Due to a longtime passion for hops, you will find them typically brewing hoppy, hazy, aromatic, flavourful American-style IPA's, Pale Ales, or anything hop forward!
Tasting Notes
Rype American Pale Ale has dank, orange-driven aromatics from Mosaic hops. A Trailway classic for a reason, Rype gives you all of the juicy fruit you want, with just enough alcohol to make it sessionable.
5.0% abv
Method
You may have had old Rype, but for Rype 2.0, Trailway have removed the rye malt and the crystal malt to give the mosaic hops their chance to really shine. Slightly drier and more refreshing than the previous iteration, but with the same tropical fruit hop character. Rype 2.0 has a cleaner, more pure hop profile.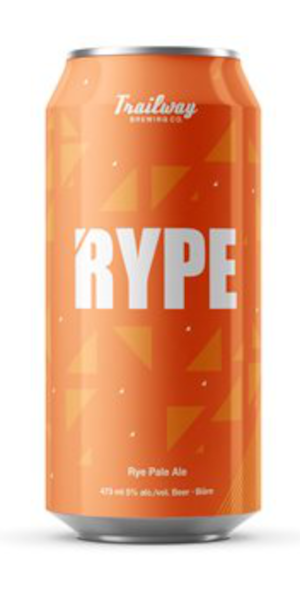 You may also like...