Trailway – Seeing Citra IPA (473ml)
Beer Style

New England IPALeans heavily on late, dry hopping techniques to deliver a bursting juicy, tropical hop experience. Learn More

Tasting Notes

BitterCitrusJuicy
Trailway started as a local group of friends in Fredericton, NB, that started brewing beer on a small 1 Barrel (31 Gallon) system in a basement, just selling small amounts to local pubs. After a year of hard work producing some well-received quality beer, they decided to take the idea to another level, so in May of 2016 they opened a 10 barrel brewery and tasting room on Main Street.
Due to a longtime passion for hops, you will find them typically brewing hoppy, hazy, aromatic, flavourful American-style IPA's, Pale Ales, or anything hop forward!
Tasting Notes
Juicy aromas of bright citrus, tropical mango and passionfruit, subtle melon and peach. Palate is soft, round, smooth and so very juicy. Moderate carbonation and a clean dry finish.

Method
Emphasising hop aroma and flavour without bracing bitterness, the New England IPA  leans heavily on late and dry hopping techniques to deliver a bursting juicy, tropical hop experience. The skillful balance of technique and ingredient selection, often including the addition of wheat or oats, lends an alluring haze to this popular take on the American IPA.
Seeing Citra is an homage to the wonderful Citra hop – only Citra was used in this beer. Brewed in the New England style of IPA. Seeing Citra is all about hop aroma and flavour over intense bitterness. This beer sees an abundance of late addition hopping, dry hopping, and hopping in the fermenter to give you the most intense expression of this hop you can get.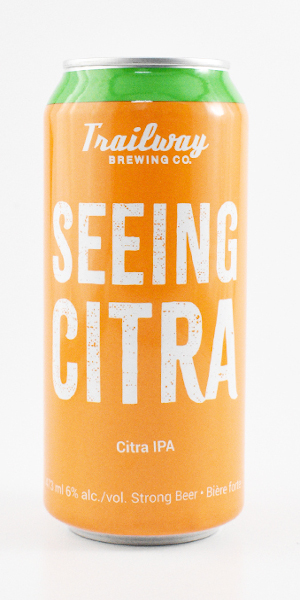 You may also like...