Tunia Contrappunto (750ml)
Food Pairing

SteakPasta with Tomato SaucePizza

Grape

Cabernet SauvignonSangiovese
Tunia is a closely-knit team, made up of Francesca (oversees wine production), Chiara (commerce) and Andrea (finance). They are a dynamic young trio full of ideas and with a strong desire to do things properly. They came together in 2008 to make wine quality natural wines, spirits and olive oils. They own 15 hectares of vines, many of which were planted in the 1970s and are all traditional Tuscan varietals, the which were included in the "recipe" of the original Chianti: Sangiovese, Colorino, Canaiolo and Trebbiano.
Tunia was the name of the most important God in the Etruscan pantheon (the Etruscans were a ancient civilization that inhabited Tuscany and introduced viticulture and winemaking to the area) the name was given to the domaine in homage to the earth upon which it is situated. Tunia is located in the spectacular Val di Chiana in the province of Arezzo. The Domaine extends over 25 hectares planted of old vine Sangiovese and Trebbiano (in 1970) and of recently planted vines (2005) of Cabernet Sauvignon and Sangiovese. One part of the vines of Trebbiano has been recently grafted with Vermentino. The domaine also has 600 olive trees – typical Tuscany!
Tunia works in organic viticulture in both the vineyards and in the cellar, without adding any oenological products to the vinification except for a small quantity of sulphites at bottling.
Tasting Notes
Contrappunto di Tunia is a red wine that was born with the idea of ​​producing a lively and graceful wine despite the remarkable structure characteristics of the grapes from which it is obtained, that is Sangiovese and Cabernet Sauvignon. The wine rests in stainless steel tanks for one year. It is vivid and fresh with a medium body and lots of elegance, it can also be drunk at a cool temperature and lends itself to the most diverse combinations.
Method
Organic Sangiovese and Cabernet Sauvignon fermented and aged for 12 months in stainless steel.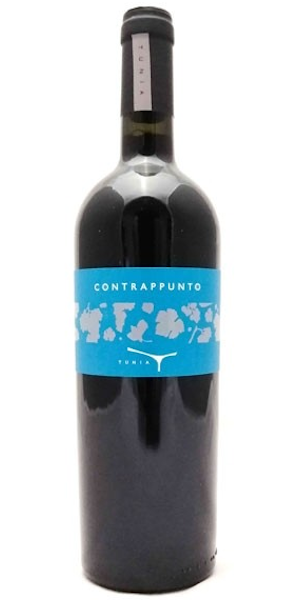 You may also like...