Uncle Leo's Altbier (473ml)
Uncle Leo's Brewery is located in Lyon's Brook, Nova Scotia along the scenic bank of the West River, 2 kilometers from the town of Pictou. The brewery is the dream of Brewer, Karl Whiffen and his wife Rebecca.
Opened in June of 2013 Uncle Leo's Brewery produces fine ale in the traditional style of craft breweries. Their beer is made from various malts, hops, yeast and water with no added fillers or preservatives. Uncle Leo's is one of a few breweries to make beer from fresh well water.
Tasting Notes
This beer has an assertive hop bitterness from the German noble hop varieties used that is well balanced by its robust, yet clean, crisp malt character. Aromas of toasted bread, nutty, toffee tones that mingle with spicy and floral hop notes. The palate is smooth, with great malt flavour and a crisp, dry finish.
5.2% abv
Method
Altbier is an German amber ale that's been lagered to create to a more crisp and smooth mouthfeel. The cousin to the German Kolsch style, altbier is a deeper colour with more toasty malt character and slightly higher hop profile. These beers are exceptional with food and are also very easy to drink on their own. Uncle Leo's makes one of the best ones we've tried!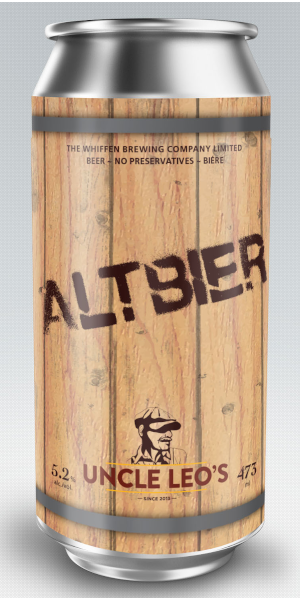 You may also like...