Uncle Leo's Vohs Weizenbier (473ml)
Uncle Leo's Brewery is located in Lyon's Brook, Nova Scotia along the scenic bank of the West River, 2 kilometers from the town of Pictou. The brewery is the dream of Brewer, Karl Whiffen and his wife Rebecca.
Opened in June of 2013 Uncle Leo's Brewery produces fine ale in the traditional style of craft breweries. Their beer is made from various malts, hops, yeast and water with no added fillers or preservatives. Uncle Leo's is one of a few breweries to make beer from fresh well water.
Tasting Notes
Robust white froth and cloudy light amber in the glass. Notes of clove, coriander, citrus, grass, bubblegum and banana. Citrus and spice on the palate, medium carbonation and refreshing finish.
Method
This summer seasonal is a tribute to Matt and Brenda Vohs. Owners of Piper's Landing Restaurant in Lyon's Brook who were Uncle Leo's first customer to put their beer on tap.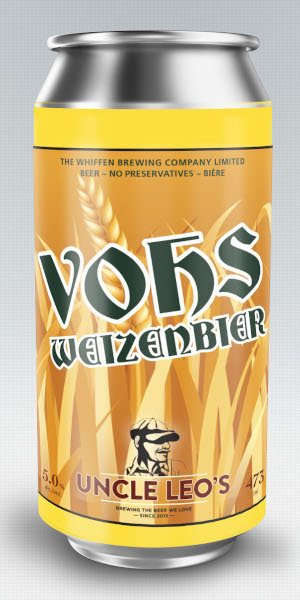 You may also like...