Vietti Nebbiolo Perbacco (750ml)
Food Pairing

CheeseGameRed Meat
For the past four generations, the Vietti family has been producing wine in Castiglione Falletto, a small village in the heart of the Langhe region of Piedmont, from their vineyards located across the five communes designated for the cultivation and production of Barolo. Over recent years Luca Currado-Vietti had taken over the winemaking direction from his late father Alfredo. The overall objective, to produce the highest quality wines, whilst retaining respect for the traditions of the specific appellations.
Tasting Notes
This is a wonderful vintage for Perbacco, made from 100% Nebbiolo grapes from parcels of land all planted in the Barolo region. The average age of the vines is 35 years. All vineyards are vinified and aged separately. Total period of ageing is 2 years, which includes 4 months in barriques, a period in which the natural malolactic fermentation develops, and 20 months in big casks.
Offers up generous fruit along with menthol, spices and hard candy, showing notable intensity while retaining an essentially mid-weight style. Strong, intense and powerful when young, complex and elegant with the ageing.
"The wonderful wines of Vietti have me thinking a lot about Langhe Nebbiolo lately. The 2013 Langhe Nebbiolo Perbacco is definitely among the top ten "easiest-to-drink" wines I've tasted this year. Following a long morning of tasting a new vintage of Barolo, I invited a few guests out to lunch. I wanted to grab an open bottle from my morning session and this is the one I re-corked and stuffed into my purse. Some 20 minutes later I was sitting outside on a warm spring day at one of my favorite restaurants in the center of Alba. I ordered lightly grilled squid as an appetizer and a portion of carne cruda covered in thinly shaved scales of black truffle. I could have grabbed a Barolo, but the sunlit setting and the raw ingredients in the lunch menu were a perfect match for Langhe Nebbiolo. In fact, the Perbacco awarded me my most memorable food and wine pairing experience during my latest trip to Piedmont. Langhe Nebbiolo is a food wine, a working wine, a lunch wine and a much friendlier take on Nebbiolo."
-Monica Larner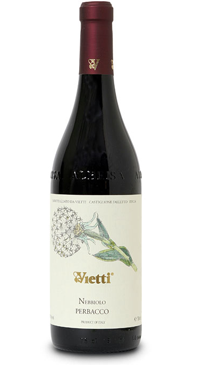 Our Thoughts
"I can't think of too many estates in Piedmont that have raised the bar higher than Vietti has over the last decade or so. Virtually every wine that emerges from these cellars is outstanding, and many are profound … an unprecedented level of consistency and quality across their entire range." – Antonio Galloni