Villa Cafaggio Pruneto Merlot (750ml)
Food Pairing

Blue CheeseBeefLamb
Villa Cafaggio covers approximately 60 hectares, of which 30 are cultivated as specialised vineyards and about 10 as olive groves. The remaining area is woodland. Situated in the hamlet of Greve in Chianti, in Panzano, the estate is nestled in the 'Conca d'Oro' (Golden basin), an area recognised as the finest zone for producing Chianti Classico.
Tasting Notes
Notes of black cherry, plum, blackberry, mocha and clay. The palate is full and plush with juicy ripe dark fruit, cedar, baking spices and almond on the finish.
Method
Basilica del Pruneto is an unblended Merlot wine obtained from the cultivation of a small 1.9-hectare vineyard on clayey soil overlooking the 'Conca d'Oro' (Golden basin). The soil of this vineyard is silty-clay loam, originating from grey and olive green marl limestone and calcareous sandstone. The vineyard is south facing at 320 m above sea level.  
Vinified at a controlled temperature, Basilica del Pruneto matures for 18 months, in equal measure, in medium toast French Tronçais and Allier oak barriques, within which malolactic fermentation also occurs.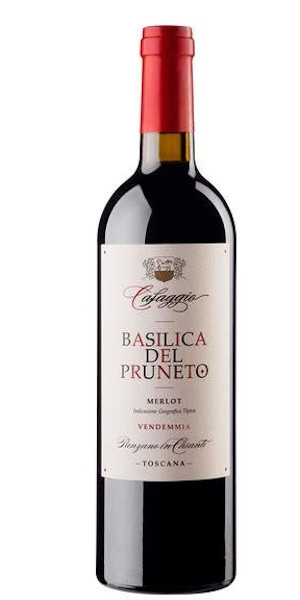 You may also like...