West Ave. – Heritage Dry Cider (473ml)
Tasting Notes

DryFloralhoney
We are so happy to introduce West Avenue Cider to Bishop's Cellar. Where authenticity and tradition meet big city lights, West Ave. cider has been awarded Best Cider in Ontario for several years running. As small-batch producers of hard cider they care about the quality of the fruit that goes into the cider. Only use the best ingredients, coupled with a slow fermentation process, so every batch of cider is characteristic of the orchard's terroir. Because heritage apples are rare in Canada, West Ave. planted thousands of trees in their Orchard to ensure that their line of Heritage Ciders remain authentic forever.
Tasting Notes
West Avenue's Heritage Dry cider is an authentic heritage cider, showing many elements from start to finish. With a lot of tannins, is starts off relatively more sweet and creamy; with it ending more dry, musty and earthy – like a true old world-inspired cider should. This cider may not be for everyone at first, but for those who like dry, cellared-tasting ciders, this will definitely satisfy.
Method
100% Ontario Heritage apples pressed fresh, then fermented to a sugar content of 4g/L. Carbonation has small, semi-streaming bubbles.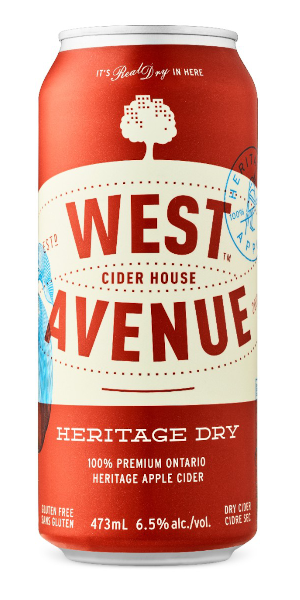 You may also like...