William Downie Cathedral Pinot Noir (750ml)
Farming Method

BiodynamicAll of our products that are tagged with the term Biodynamic are either biodynamic certified or biodynamic practicing. Learn More

Food Pairing

Roast ChickenMushroom dishesSalmon
William Downie is well known in Australia for making minimal intervention wines long before it became a trend. His drive for excellence has seen him rise to the ranks of being on of the finest Pinot Noir growers and producers in Australia. His Guendulain Farm vineyard is located, in Gippsland, Victoria. In the late '90s he worked briefly in a bottle shop that lead to a wine appreciation course, then enrolment in the inaugural Negociants Working with Wine Fellowship, in 1998. He was eventually working for Australia wine icon De Bortoli, travelling to Burgundy and totally immersed in wine culture and winemaking.
Downie had been making Pinot Noir under the William Downie label since 2003, with Mornington, Yarra Valley and Gippsland bottlings produced by the time he left De Bortoli in 2007. He now makes wine under his own labels, including from his home property, Guendulain Farm, in Gippsland, but he was also the founding winemaker at the ambitious Thousand Candles, with Patrick Sullivan (Jumping Juice wines) by his side. Downie also works with Jason Searle to produce the SOS wines, which include some really fun varietals and styles.
Downie is credited with having influenced other Australian winemakers to shift towards producing a purer, more fragrant style of Pinot Noir, an influence whose ripples are still felt today. Downie's wines are hands off, with destemmed berries fermented without plunging or pumping until late in the ferment. He produces elegant wines, without lots of extraction.
Tasting Notes
This is a brisk and lively Pinot Noir with notes of lifted blackcurrant and blackberry fruit wild herbs and minerality. It is a fresh and early drinking red, deeply fruity with a touch of spice, just enough chewy texture and very food friendly.
Method
Made from organically grown Pinot Noir grapes from the the Upper Goulburn, Victoria at an elevation of 300m. The climate is moderate Mediterranean, the soils are deep, red volcanic.  Spontaneously fermentated with native yeasts in stainless steel tanks and old puncheons.  Aged in stainless and old oak puncheons.  Cathedral Vineyard in Upper Goulburn was planted in 1999.  
Our Thoughts
William Downie is making some of the most interesting and progressive Pinot Noir in all of Australia. It's juicy, fresh, and aromatic with notes of dark cherries and dried rose petals; like a picnic in the park. The palate is elegant and supple with a great peppery quality, it'll please Burgundy fans and new world Pinot drinkers alike. This wine is young and fresh and meant to be consumed this way – so drink this all summer while your Burgundies are aging!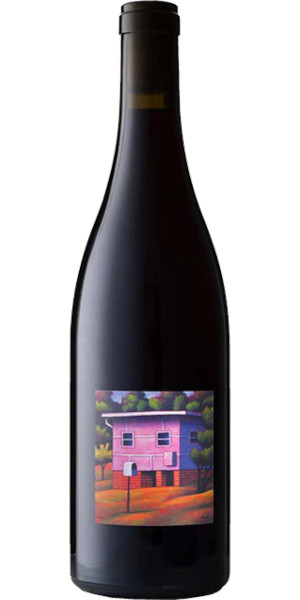 You may also like...