Willibald – Pink Gin Hibiscus Limeade (355ml)
Tasting Notes

Fruityrefreshingzesty
Founded in 2017, Willibald is a first-generation farm distillery & brewery located outside of Cambridge in Ayr, Ontario. On the farm they strive to create progressive, high quality products that respect tradition but aren't bound by it. They also have a restaurant on the farm serving up seasonally focused food and beverages all year round.
Tasting Notes
Electric lime zest aromas mingle with herbal, and complex gin notes. The palate is lively, with very refreshing hibiscus and lime flavours that lead into a dry finish with lovely acidity that is balanced with the other flavours. Serve in a glass with ice, or straight from the can!
Method
The Pink Gin used in this cocktail is triple distilled and aged 6-12 months in fresh Niagara red wine casks giving the spirit the light pink colour and balance of flavours. After ageing, it's infused with a hint of Willibald's Raw Honey. That's right, the honey used in their Pink Gin from beehives on the farm.
Willibald Pink Gin cocktail is made with Willibald's own Pink Gin, and infused with hibiscus tea, limeless and simple syrup.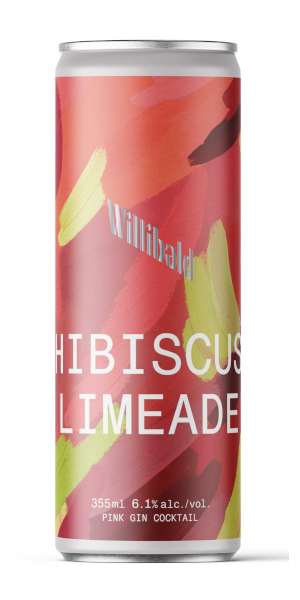 You may also like...
Express Shipping!
For select shipping postal codes, this product may be eligible for Express Delivery! Click here to learn more.