Meyer Fonne Riesling Wineck-Schlossberg Grand Cru (750ml)
Farming Method

OrganicAll of our products that are tagged with the term Organic are either organic certified or organic practicing. Learn More

Food Pairing

PorkShellfishSpicy Foods
Felix Meyer's grandfather founded the domaine in the late 19th century. He took over the domaine in 2005 and has modernized the winery and continued to expand the family's vineyard holdings to include some grand cru vineyards in Alsace, all while staying in touch with tradition and respecting the terroir. Felix is a master blender and skilled winemaker; he blends wine from different parcels and ages his wines on the fine lees in old foudres, as was the tradition in Alsace.
Félix uses synthetic fertilizers, herbicides, or pesticides to treat the vines. Cover crops are planted in every other row in the vineyards. Some vineyards are plowed, but certain parcels can be plowed only once a year because any more would erode the soils. He treats the grapes with the same individualized care, harvesting by hand and gently loading them into the press. The use of native yeasts during fermentation makes the process longer and slower, creating a more lush texture.
Tasting Notes
Mandarin and zesty lemon zing on the nose. The palate is very expressive with lots of fruit made up of juicy tangy mandarin notes. The wine opens up in the glass becoming more fragrant. Great concentration and freshness accommodate a whisper of sweetness while the finish is crisp.
Method
The Riesling grapes are sourced from 1 ha of vines planted in 1958 and 2010.  The Grand Cru Wineck-Schlossberg is composed of granite and mica soil. Grapes are gently pressed in a pneumatic press for 4-10 hours, and then the must is left for 24-36 hours to allow the heavy lees to settle.  Fermented 1-3 months in temperature-controlled stainless steel tanks or oak barrels.  The wines are racked two weeks after the fermentation has completed, and kept on the fine lees until the September bottling.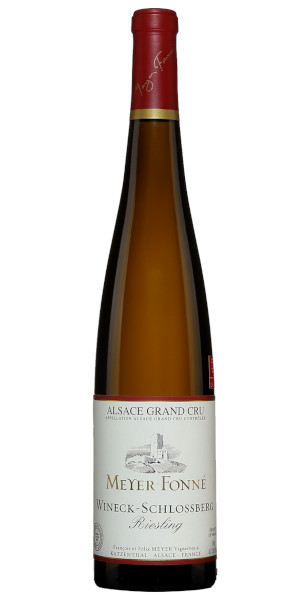 You may also like...