After several long hours, a PopUp store and a full team effort from our crew at Bishop's Cellar, we're very proud to present to you our new and improved retail location. Over these past few years we've listened to your suggestions and traveled the globe visiting wine  shops to improve our store and provide you with a better wine shopping experience. We invite you to drop by the shop to experience our new changes. Highlights include:
New Cabinetry and Display Units
Our custom circular and rectangular display units move bottles off the floor and have been arranged according to style and region, making it much easier to find your favorite Argentinian Malbec or value Italian sipper
Food Pairing Corner
Only a few minutes to grab a quick bottle to pair with pasta? Our new Food Pairing corner has food pairing guidelines and hand selected wines by our staff when you're in a hurry. Wines will be rotated frequently so check back often for a new suggestion.
Enomatic Wine Machine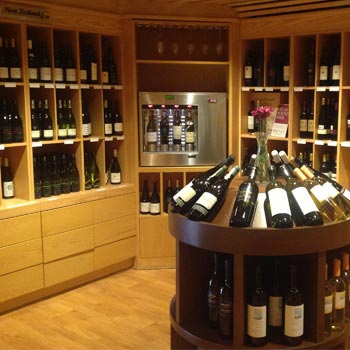 Always wanted to taste that special bottle of Amarone before buying? Our new Enomatic machine is the perfect opportunity to sample rare and cellar worthy wines. For just $5.00, sample all the wines available on the Enomatic. Even better, we'll waive the fee if you purchase a bottle off the Enomatic,
Infographic Wine Posters
We know wine can sometimes be intimidating.. that's why we've designed our very own wine infographic posters. These graphical posters are displayed throughout the store and contain lots of interesting facts and information about wine. Hope you enjoy!
Dedicated White Wine and Beer Fridges
In addition to more space for product on our shelves, we've also increased our chilled options for Craft Beer and White Wines. With a broad selection to choose from, we should always have a wine or beer cold to suit your palate.
Accessible, More Spacious Layout
Last but not least, our new layout is much more spacious and easily accessible for shopping and our in store tastings.
We look forward to seeing you in the shop and would love to hear your comments and feedback.
Cheers,
The Team at Bishop's Cellar