800+ wines from around the globe
Light and easy Chianti for pizza. Big, bold Napa Cabernet Sauvignon for a chilly winter's night. Crisp, aromatic Sauvignon Blanc to kick off a relaxing Friday evening. Whatever the occasion, Bishop's Cellar has a wine for every palate.
To help you find the perfect wine, try our easy-to-use Wine Selector that will let you narrow down your search by price, type, country, style, food pairing and region.
Looking for a recommendation? Check out one of our monthly staff picks, hand selected by our own team or look for featured wines throughout the site.
Bishop's Cellar makes it quick, simple and convenient to shop for wine; delivered to your door or available for pick-up in store.
Recommended
Type

Red

Encompassing a wide range of styles and full of colour and flavour- red wines belong in any wine rack! Learn More »

Country

New Zealand

With less than 1% of the world's wine production, New Zealand's impact on the global wine world is more than impressive. Learn More »

Style

Smooth and Medium

This elegant style is usually associated with wines growing in regions where their balance of fruit, acidity and tannin allows them to be known as quintessential food wines. Learn More »

Food Pairing

Charcuterie

There are many flavours and textures on a typical charcuterie plate, many of which will throw off the balance of a low acid wine and make it taste sour. Your best bet is to partner wines that are cheap, cheerful and versatile. Learn More »

Pork

While nutritionists consider pork to be "red meat", for the purposes of wine pairing we still categorize pork to be the "other white meat" due to lighter wine styles that can be showcased with pork dishes. Learn More »
---
Coming Soon
Coming Soon
Coming Soon
New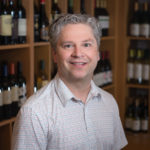 Jason MacLeod
View profile
This dry organic Rose has solid raspberry, strawberry aromas that absolutely jump out of the glass.  Ample weight on the palate, this wine should stand up to most light fair or help quench your thirst as we get through the rest of the summer!