Natural, organic and biodynamic wines are on the rise! There's a growing movement of producers and wine lovers around the world who are advocating for a return to a focus on farming and the vineyard, away from much of the processing and manipulation of "modern" winemaking.
So, what does it mean for a wine to be natural, organic or biodynamic? More importantly, what does it taste like? Take a walk on the wild side and decide for yourself! First, we explored organic wine. Now, we'll look at Biodynamic wines.
So, what are biodynamic wines?
We get a lot of questions about biodynamics in our shop! Put simply, Biodynamics is a holistic view of agriculture that is based on the philosophy of interconnection.
The movement started in the 1920's with Austrian Rudolph Steiner. It is the oldest official, anti-chemical agriculture movement. While there's definitely been a lot of buzz lately, this is not a "new" idea. Biodynamics actually pre-dates organic agriculture by 20 years! There are now about 700 biodynamic producers in the world and that number is growing every year. Important: while all biodynamic producers are naturally organic, not all organic producers are biodynamic.
When I'm thinking about biodynamics, I really love this quote: "At its core, Biodynamics is an energy management system" -Mike Benzinger (Sonoma County's first biodynamic certified producer)
The energy management of Biodynamic agriculture occurs primarily in the vineyards and within the farm's own system. Like historical agricultural practices, the biodynamic philosophy is based on the lunar calendar. This means that all tasks like planting, pruning and harvesting are regulated by using the relative positions of the moon & constellations to determine Root, Fruit, Flower & Leaf days. Vineyard work is organized on these days to maximize efforts.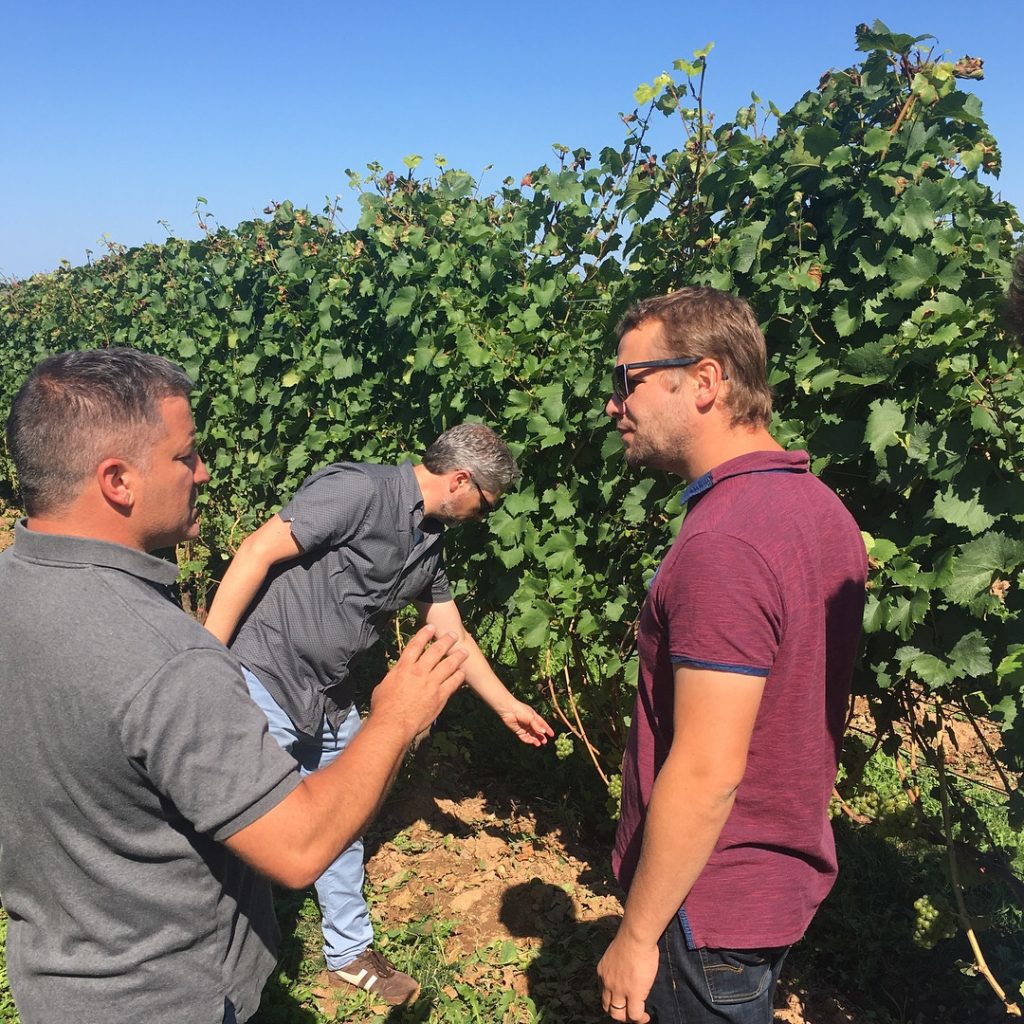 Photo: Visiting winemaker Germain Croisille (Vignerons de Nature) chats with Mike Lightfoot from our local biodynamic producer, Lightfoot & Wolfville. You can see my colleague Jason MacLeod checking out the fruit in the background, too.
Ultimately, the farm is treated as it's own unique, self-sustaining ecosystem. No chemicals or commercial yeasts are added. Great care is taken to ensure that all aspects of the farm are connected and nurturing one another. Furthermore, biodynamic producers also utilize 9 different "preparations" made on site from herbs, plants, and manure that are then used as sprays and composts to enhance vineyard life and vitality.
One aspect of biodynamics that everyone seems to have heard about about is the cow horns, mostly because it seems a little wacky. That said, when you get down to it, the process is more a matter of traditional farmers using their widely available resources wisely. Nutrient-rich cow manure is placed in a vessel (cow horns) and buried around the property to ferment, underground at a consistent temperature, over the winter. Kind of like my sourdough starter, neglected and forgotten for months at a time but still doing it's thing. Then, the horns are dug up and the fermented manure is utilized as a spray to improve the microbial health of vineyard soils.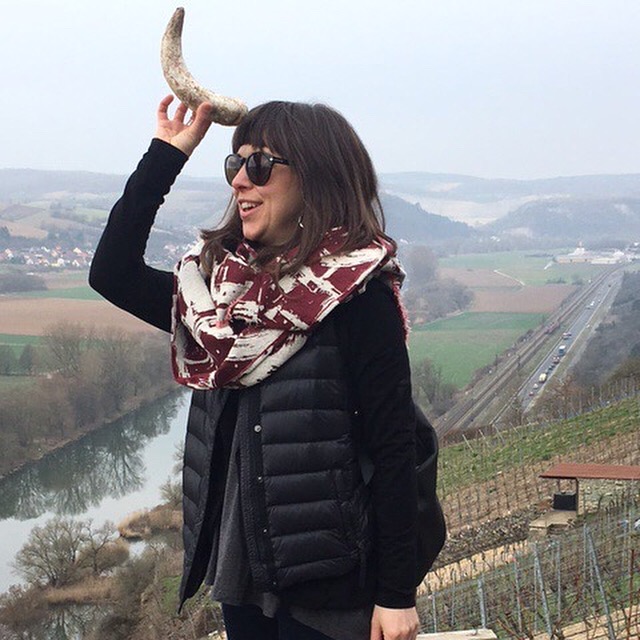 Photo: My colleague Alanna McIntyre checking out the cow horns at Germany's Weingut Am Stein.
Make no mistake, biodynamic winemaking remains a controversial practice. Many horticulturalists and viticulturists are skeptical about the science behind biodynamics. Many argue (quite rightly!) that the principles were developed more as a philosophy, not a scientific approach to agriculture.
That said, there are also many who believe that biodynamic soils show greater disease suppression, vitality and less compaction. More and more producers are collecting and submitting their soil data in the hopes of confirming this hypothesis. If you want to take a deep dive and learn more about all this, I suggest exploring some of the resources and soil studies found on Demeter Canada.
All that said, it was several hundred years after Cistercian monks documented their experiences cultivating Burgundy's vineyards that modern researchers were able to confirm the scientific veracity of their conclusions- or at least many of their conclusions. We don't have all the answers yet. Furthermore, while we are still looking to gain deeper understanding of traditional winemaking practices and biodynamics, there's also something to be said about the commitment and attention that biodynamic practices demand of producers. Even if some aspects of biodynamics are someday proven to be "folk wisdom" rather than straight science-in my humble opinion, the care and attention-to-detail comes through in the wine. Ultimately, for me, how a wine tastes and how we can share it, talk about it and get behind it is what this wine thing is all about!
Have you tried biodynamic wine before? Check out some of our producers who are influenced by biodynamic practices.
This blog post is based on the workshop I gave at Devour! The Food Film Festival back in October 2018. Stay tuned for part 3 about Natural Wines later this week.