Photo description: Winemaker Lionel Faury sits in his cellar, surrounded by oak barrels, smelling a small glass of wine.
France's Northern Rhone is home to some of France's greatest wines. The Syrah-based appellations of Cote Rotie and Saint Joseph, as well as the iconic Viogniers from the tiny appellation on Condrieu have a cult like following among some.
Over the years, members of the Bishop's Cellar team have had the opportunity to travel to this part of the world sourcing wines for the store. Among some of our favourite Northern Rhone producers is Domaine Faury.
The special terroir of the Northern Rhone
The northern Rhone is a narrow valley with vineyards planted precariously on precipitous slopes. The slopes are so steep that the only way one can cultivate grapes for winemaking is through terracing, which means that all viticultural practices must be done carefully and by hand. The vines benefit from south and south east exposure to optimally ripen here on the granite soil.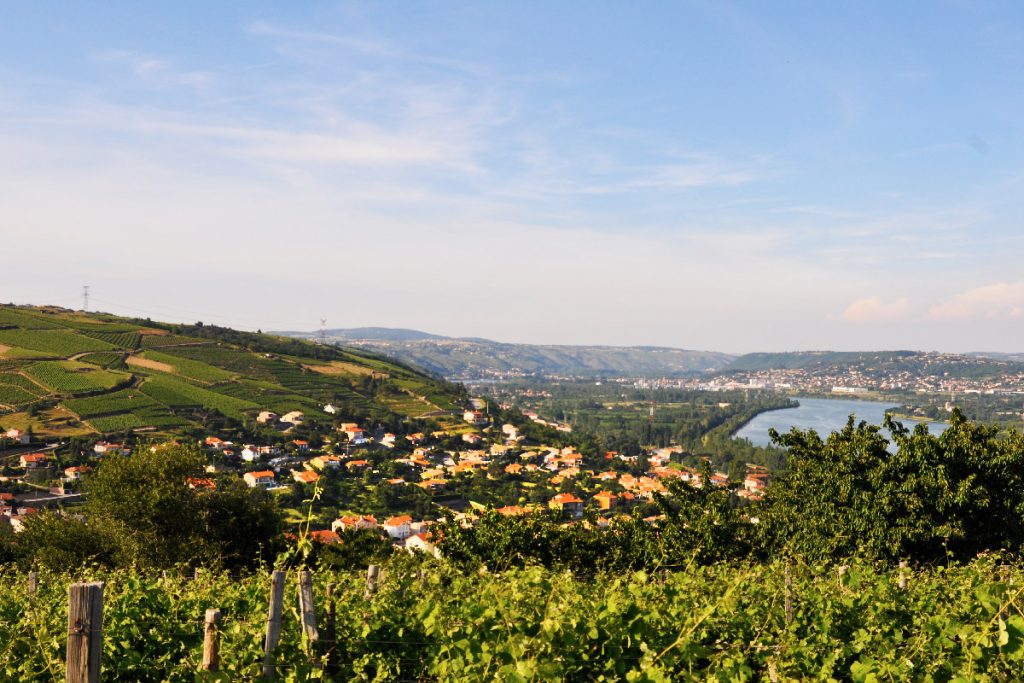 Photo description: Taken from one of the steep slopes, this photo shows vines in the foreground with a wide view of terraced vineyards and communities to the left and a partial view of the Rhone river bending to the right.
Lionel Faury's Approach
Faury is a family domaine that has been producing wine since 1979. It started as a multi-crop cultivation of fruit trees and grapes for bulk wine, consumed mainly by locals. Since then, it has blossomed into a full-on viticultural project focused on producing terroir-driven wines that have garnered an international following. Since 2006 Lionel Faury has been at the helm of the domaine, producing artisanal wines of great precision and character.
Lionel Faury de-stems about 70% of his grapes, on average, softly crushing them using a pneumatic press and fermenting the juice using temperature control to ensure freshness and liveliness in finished wine. While the skins and wine remain in contact during fermentation the "pigeage" (punching down of the cap of skins that rises to the top of the tank) isn't done by mechanical means, but by foot!
Respecting the delicate nature of the wine is top of mind and, with that intention, Faury does not use new oak- as he feels it would overpower the delicate nuances of his wines. Though the wines do spend time in barrels, he prefers used barrels of varying sizes. They bottle their wines unfined and only lightly filtered.
These wines are characterized by classic flavours and show a timeless rustic elegance.
Looking to try wines from this producer? Try:
Photo credits: Thanks to our friends at Kermit Lynch Wine Merchant for the photos.