Alpha Loire Roche de Lune Vouvray (750ml)
Food Pairing

AperitifCheesePork
Fabienne Angier, Alain Guichet & Philippe Angier are the founders of Alpha Loire Domaines. Alpha Loire Domaines are producers and negociants strongly attached to the main regions of the Loire Valley. They work in partnership with winemakers who rent their plots, they follow the work of the vines with great respect for the environment making wine in the most natural way in two wineries located in either end of the Loire Valley. Domaines Alpha Loire also offers a variety of Loire wines from organic farming with Ecocert control.
Tasting Notes
Aromas of dried fruits, honey and dried flowers with mineral notes and exotic fruit on the palate. Good balance of sweet fruit and a persistent roundness. There is noticeable residual sweetness that is well balanced by zippy acidity. The rich palate and that bit of sweetness makes this a complimentary wine pairing with dishes that are rich or creamy. Delicious as an aperitif, with scallops, foie gras, pork, Turkey dinner, root vegetables and of course a cheese plate.
Method
This Chenin Blanc is fermented in stainless steel, aged on the lees with some new wood in the barrel program as well; 90% in glass coated tanks for an aromatic, modern profile and 10% in new cask. The wine is kept on its fine lees until bottling.  The final wine has about 9 g/L RS, so it is on the cusp of sec / demi sec.    
Our Thoughts
I try not to play favourites, but, despite my best efforts, wines made from the Chenin Blanc grape are almost always at the top of my list. This Vouvray from Alpha Loire Roche de Lune is just too easy to love.

In case you've not had it before, Vouvray is a white wine made with Chenin Blanc grapes from the Loire Valley in France. Wines range in style from dry to sweet, and still to sparkling, each with its own delicious character.

This wine is both fresh and complex: it spent time on its lees and a very small portion was kept in new oak. That said, this is not an overpowering wine- it's full of balanced flavours of dried fruit, honey and that characteristic Chenin Blanc acidity, which I really look to for freshness as the weather warms up. The palate is bright and mineral-driven with an appealing creamy texture. This is an amazing food wine- try it with chicken or shrimp on the BBQ and a salad topped with goat cheese. Or anything with goat cheese really.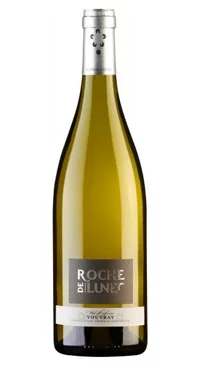 You may also like...