Barossa Ink Shiraz (750ml)
Sub-Region

Barossa Valley

Food Pairing

SteakBBQBurgers
Grant Burge Wines was established by a fifth-generation Barossa vigneron and winemaker. Throughout his career, Grant has been one of the most respected and innovative forces in the Australian wine industry.
Their portfolio is so wide-ranging, from sparklings and rosé wines to classic Shiraz, Grenache and fortified wines, but the common winemaking style is enhancing flavour, generosity and drinkability. They craft big and bold reds for the drinkers who love this style, as well as a collection of very elegant and stylish wines that cater to drinkers who appreciate this style. The versatility of the region is one of its greatest strengths. With the combination of the best terroirs, the best climate and the best winemaking techniques, the natural result is the best wine. What drives the entire winemaking team is the hope that Grant Burge Wines are enjoyed and shared by family and friends, making memories that will last a lifetime.
Tasting Notes
Intense purple red in colour with great density. The bouquet is rich with plum, raspberries and dark cherries, with underlying hints of dark chocolate, coffee bean and spice. This super-rich, full-bodied wine has a sensual palate offering plenty of texture, fine velvety tannins and soft, round dark fruit flavours.
Method
Grant Burge's winemaking team carefully blended vibrant, flavour-packed parcels of premium Barossa wine to create a Shiraz so bold and dark in colour, it's almost ink. It's further intensified with rich, natural colour sourced from the grape skins.
The majority of the fruit for Barossa Ink is sourced from the southern half, where the climate isn't as harsh as other parts of the Barossa, it has higher rainfall and more balanced and less stressed canopies. The soils are generally rich deep red/brown medium clay/loam and are rich in nutrients with ideal water-holding capacity. These soils generally make wines with red berry fruit instead of big plummy ripe characters.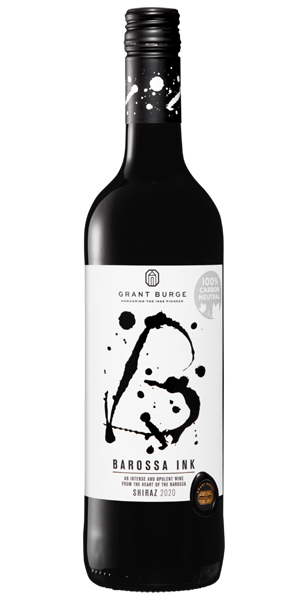 You may also like...