Four Graces Willamette Valley Pinot Noir (750ml)
Sub-Region

Willamette Valley

Farming Method

ConventionalMost products with this label come from producers who do their best to avoid any intervention at all but it's possible that some of the aforementioned preventative measures and additions are deemed necessary. Learn More

Food Pairing

Lamb KebabChickenDuck
The Black family purchased an existing vineyard in the Dundee Hills of the Willamette Valley in 2003 as a family retreat. They immediately began turning the estate into a sustainably farmed, well-tended vineyard with the goal of producing rich, elegant, delicious and complex wines. That same year The Four Graces was founded. The winery is named in honor of the Black's four daughters. The Four Graces are sustainably farmed, well-tended vineyards with the goal of producing rich, elegant, delicious, and complex wines.
Today The Four Graces is owned by Bill Foley and produces Pinot Noir, Pinot Gris, and Pinot Blanc renowned nationally and internationally for their balance, elegance, complexity, and richness. The wines are crafted under the guidance of Tim Jones who is thrilled to be able to taste and compare some of the best grapes in Willamette Valley.
Tasting Notes
Pleasant aromas of black cherry, red currants and hints of damp earth and rich dark chocolate. Bright red fruit flavors of cherry and currants complemented by lively acidity and plenty of structure. The finish is bright with perfectly balanced acidity.
Method
The Willamette Valley runs for 150 miles following the Willamette River and is home to The Four Graces' two vineyards.  With the Cascade Mountains to the east, Coast Range mountains, the region's climate is especially suited for Pinot Noir and other cool climate grapes.
The fruit for this wine was sourced from the Foley Family Estate, Doe Ridge and select sites throughout the Willamette Valley AVA. The Foley Family Estate Vineyard encompasses 110 acres nestled in the Red Hills of Dundee. The Doe Ridge Estate, purchased and developed in 2005, is a 90-acre site and considered one of the most innovative new vineyards in the Willamette Valley. Additional fruit from Erratic Oaks, Hyland and Prince Hill make up the final blend.  This is 100% Pinot Noir fermented over a period of 12-14 days. It was then pressed and transferred to barrel where malolactic fermentation occurred naturally. Aged for 9 months in 15% new French oak.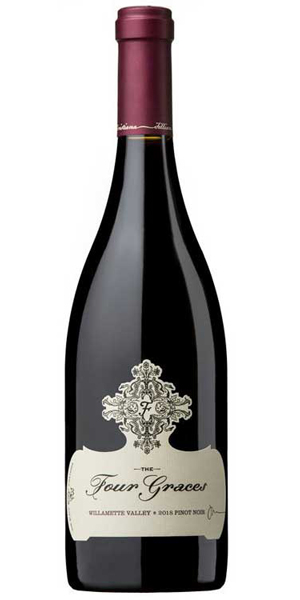 You may also like...