Kilkerran 12 YO Single Malt (700ml)
Spirit Category

Single Malt Scotch Whisky

Sub-Region

Kintyre Peninsula

Tasting Notes

BrineFruitVanilla
Glengyle distillery was founded by William Mitchell in 1872, and stayed in the family until 1919. After changing hands a couple times and being mothballed (a term referring to a distillery being closed while still preserving equipment and machinery for possible future use), the distillery was sold to J&A Mitchell in 2000. Four years later, Glengyle reopened and the first bottling of Kilkerran was released in 2009; a 5 year old expression titled "Work-in-Progress."
The name Kilkerran comes from the gaelic word Cille Chiarain, which was the original name for Campbeltown- the scenic setting where Kilkerran proudly makes their distillate. In 2016, the annual release of Kilkerran's 12 year old began which features a 12 year old whisky matured in 70% ex-Bourbon casks and 30% ex-Sherry casks. To round out their core range, they also produce an 8 year old cask strength and more recently, a 16 year old expression.
Tasting Notes
From the distillery: On the nose, oak notes are dominant, followed by toasted marshmallows and dried fruit pudding, as well as cherries, marzipan and a hint of peat. The palate is initially fruity with citrus notes and orange peel, after this: vanilla, butterscotch, honeycomb and digestive biscuits can all be tasted and enjoyed. The finish is velvet and smooth with lemon meringue, to conclude, there's an oiliness and a saltiness that you'd expect from a Campbeltown dram.
Method
All whisky produced at the Glengyle distillery starts with the locally sourced barley. From there, its malted at the nearby Springbank distillery, at then milled back at Glengyle. A 7-8 hour full mash cycle runs, and then its transferred to washbacks for the purpose of fermentation. Traditional Scottish double distillation occurs in copper stills; the first spirit (or low wine) is made at 21-23% ABV and that's distilled a second time with a finished product of 68% ABV. After diluting the spirit down to 63.5% ABV with Crosshill loch water, the desired casks are filled and matured until it's time to bottle.
Aged in a combination of ex-bourbon casks (70%) and ex-sherry casks (30%), Kilkerran's 12 Year Old is lightly peated (15ppm) and non-chill filtered.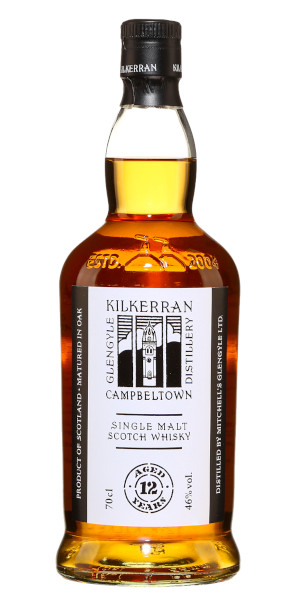 You may also like...