Le Albare Monte Majore Soave DOC Classico (750ml)
Farming Method

ConventionalMost products with this label come from producers who do their best to avoid any intervention at all but it's possible that some of the aforementioned preventative measures and additions are deemed necessary. Learn More

Food Pairing

ChickenSeafood Pasta DishesVeal
The Posenato family has 1.5 hectares of Garganega vines planted and pergola trained in 1948. The Le Albare estate is in its 4th generation of production under the direction of Stefano Posenato. This is a very traditional Italian winemaking estate located in the heart of Soave Classico. Stefano only grows Garganega and he trains the vines using the traditonal 'Pergola Veronese' system, where the the vines grow first upwards and then outwards to form a canopy. This ensures that the bunches of mature grapes are kept high enough above the ground to escape the low mists that can encourage molding and rotting. He takes several precautions to render a wine "that reflects the identity of a 'true' Soave, with its original historical characteristics."
Tasting Notes
Delicate floral notes, tropical fruit and botanical herbs on the nose. The palate is fresh with apricot, pear and almond flavours and an underlying salinity. This is a lively, fresh and elegant dry white wine with clean acidity and minerality. Enjoy as an aperitif with focaccia, with shellfish, grilled asparagus, veal scalloppini with lemon and capers.
Method
The Monte Majore vineyard is one of Soave's best-known sites stretching all around the top of the extinct volcano of the same name. The Gaganega grape is ideally suited to the basalt and volcanic soils found here.  No chemicals are used in the vineyard, the grapes are harvested by hand, fermented and aged 4 months in stainless steel tanks.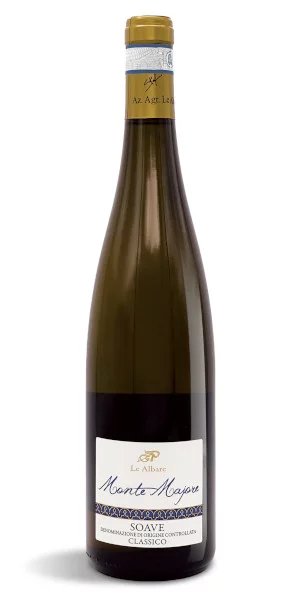 You may also like...
Express Shipping!
For select shipping postal codes, this product may be eligible for Express Delivery! Click here to learn more.