Tabali Vetas Blancas Pinot Noir (750ml)
Food Pairing

PorkPoultryWarm Vegetable Dishes
Tabalí was one of the first wineries to settle in the Limarí Valley. It´s one of the most promising valleys of the country and it is located in the North of Chile. The proximity to the Atacama Desert and to the Pacific Ocean, as well as the presence of limestone soils, brings an exceptional and unique terroir, ideal for the production of high quality wines.
Tasting Notes
The nose offers fresh red berry aromas with notes of spice and pleasing wet earthy notes. The varietal fruit is perfectly integrated with the French oak and the palate is bright with a balanced silky mouthfeel.
Method
The grapes for this wine were sourced from the vineyards located in the coastal area of the Limarí Valley in the north of Chile. The grapes were handpicked, hand sorted and destemmed before undergoing a temperature controlled fermentation in stainless steel tanks. The wine was aged for 12 months in 100% French oak barrels.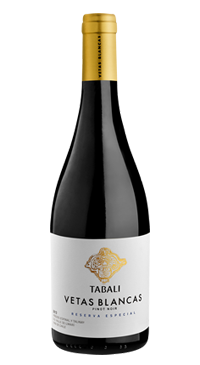 You may also like...