Tatamagouche X Bishops Cellar – Cellar Slammer Session IPA (355ml)
Tasting Notes

BitterCitrusCrisp
The Tatamagouche Brewing Company (commonly referred to as "Tata") is a family owned and operated craft brewery located in the heart of Tatamagouche, Nova Scotia. In 2014, the family converted an old butcher shop into a brewery, and have since added several additions to the sides and back of the building to help accommodate their growth. Tata Brew is one of only a handful of Certified Organic breweries in Nova Scotia, and their beers have won awards provincially as well as nationally.
Tasting Notes
Cellar Slammer is now on its 7th year of release! A collaboration between Tatamagouche Brewing Co. and the team at Bishop's Cellar. Forget everything we've ever told you, THIS is your go-to summertime slammer. Your patio-pounder, a beach bestie, a… you get it!
Clean and bright citrus-driven aromas, but not too far into the "juicy" territory. White grape notes mingle with five-alive citrus brightness that is balanced with subtle dank herbaceousness. Slammer is light on its feet, bright, and way too easy to drink – there's a reason it keeps coming back every year.
4.4% abv
Method
A simple malt base of pale malt and a touch of wheat for silky texture. This light malt foundation allows the hops to shine – bittered with Amarillo, and liberally dry-hopped with Mosaic and Hallertau Blanc (a newer German hop that is INSANELY bright and aromatic) make this beer so fun and refreshing to drink. Maybe we're biased, or maybe it's the best beer in the world?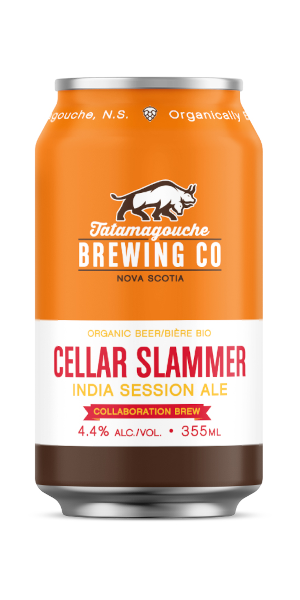 You may also like...