Trailway Good Weather IPA (473ml)
Trailway started as a local group of friends in Fredericton, NB, that started brewing beer on a small 1 Barrel (31 Gallon) system in a basement, just selling small amounts to local pubs. After a year of hard work producing some well-received quality beer, they decided to take the idea to another level, so in May of 2016 they opened a 10 barrel brewery and tasting room on Main Street.
Due to a longtime passion for hops, you will find them typically brewing hoppy, hazy, aromatic, flavourful American-style IPA's, Pale Ales, or anything hop forward!
Tasting Notes
Pouring a bright hazy straw colour, similar to the yellow on the can label. Massive aromas of vibrant tropical fruits jump out of the glass, such as peach, mango, pineapple, guava, etc.. The palate is juicy and soft featuring a lot of the same flavours as the nose. Moderate carbonation and just enough bitterness keep this from being too cloying.
Method
Brewed primarily with Australian Vic Secret Hops, Vic Secret is an Australian hop known for its bright tropical character of pineapple, pine, and passion fruit. Similar to the Galaxy hop but with a lighter profile. Good Weather is part of a movement of new IPA's that want to showcase as much juicy tropical aromas and flavours as possible. This is achieved in part by using hops from Australia and New Zealand, but also by adding a considerable amount of dry hops, and hopping in the fermenting tank.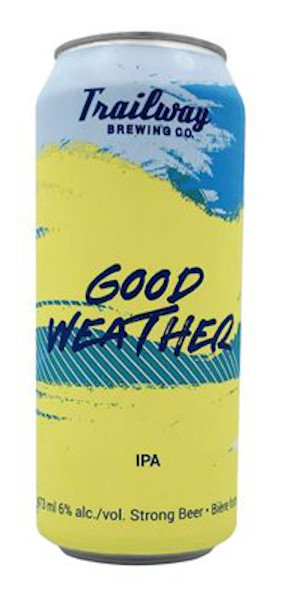 You may also like...