There is a saying, "un pranzo senza vino e come un giorno senza sole"; a lunch without wine is like a day without sunshine. This saying makes me happy, not because it tells me it's ok to have a glass of wine with lunch, but because the essence of this phrase is to enjoy your food with good wine!
Italian cuisine is very regional, even to the point where every little town has distinct traditions. I've decided to use the town of Siena as my inspiration with both wine and food in this post coming from that region.
Siena: A Brief History
Legend says that Siena was founded by Senio and Ascanio, sons of Remus- of the famous duo, Romulus and Remus, who founded Rome. Statues of the wolf feeding the twins are spotted throughout Siena, but without historical foundation. Instead, the Romans established a military outpost in 30AD called Siena, and it developed into a busy little trading post in the following years. Economic and military power grew and, inevitably, friction developed between Siena and Florence, as both cities tried to enlarge their territory. There were many battles between the two cities and eventually Florence had the upper hand. Siena was incorporated into Florentine territory and administration.
The Food
It's very difficult to find fault with Tuscan food. The ingredients are fresh and the recipes are simple combinations, cooked with care and time. The result = mouthwatering! There are so many different recipes and local dishes that can represent Tuscany but some of the more unique dishes and products include:
-Beef from the special Chianina breed of cattle, one of the oldest cattle breeds with great adaptability to steep hillsides. The cattle are also more resistant to disease, yielding high quality meat.
-Pici, a kind of hand rolled and thick pasta that looks a lot like fat spaghetti.
-Crostini Neri or chicken liver pate. Rich and delicious.
The Wine Pairings
Both wines that I have used to pair with my dishes come from Il Poggione: Il Poggione is Montalcino's fourth largest estate and is considered by many wine critics to be one of the most reasonably priced and cellar-worthy wines on the market today.
I poured the Il Poggione Bianco with my Panzenella salad. The pairing worked out wonderfully, as the acidity in the salad dressing really brought out the stone fruit and minerality in the wine.
For the Tuscan roast, I poured the Il Poggione Rosso Toscana. The nice blend of Sangiovese, Merlot and Cabernet Sauvignon gave the roast a fullness without losing any freshness of the herbs and lemon zest. All the flavours came out with every bite. Delicious!
Tuscan-Style Tomato and Bread Salad (Classic Panzanella)
Ingredients: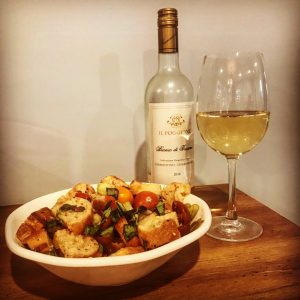 2 1/2 pounds mixed tomatoes, cut into bite-sized pieces

1 cucumber, cut into bite-sized pieces

2 teaspoons kosher salt, plus more for seasoning

¾ pound ciabatta or rustic bread, cut into 1 1/2-inch cubes (about 6 cups)

10 tablespoons extra-virgin olive oil, divided

1 small shallot, minced (about 2 tablespoons)

2 medium cloves garlic, minced (about 2 teaspoons)

1/2 teaspoon Dijon mustard

2 tablespoons white wine vinegar or red wine vinegar

Freshly ground black pepper

1/2 cup packed fresh basil leaves, roughly chopped
Directions:
Place tomatoes and cucumber in a colander set over a bowl and season with 2 teaspoons kosher salt. Toss to coat. Set aside at room temperature to drain, tossing occasionally, while you toast the bread. Drain for a minimum of 15 minutes. Meanwhile, preheat oven to 350°F and adjust rack to centre position. In a large bowl, toss bread cubes with 2 tablespoons olive oil.
Transfer to a baking sheet. Bake until crisp and firm but not browned, about 15 minutes. Remove from oven and let cool.
Remove colander with tomatoes and cucumbers from bowl with drained juices. Place colander with tomatoes and cucumbers in the sink. Add shallot, garlic, mustard, and vinegar to the bowl with juices. Whisk in the remaining 1/2 cup olive oil. Season dressing to taste with salt and pepper.
Combine toasted bread, tomatoes, cucumbers and dressing in a large bowl. Add basil leaves. Toss everything to coat and season with salt and pepper. Let rest for 30 minutes before serving, tossing occasionally until dressing is completely absorbed by bread.
Tuscan Roast Pork (Arista di Maiale)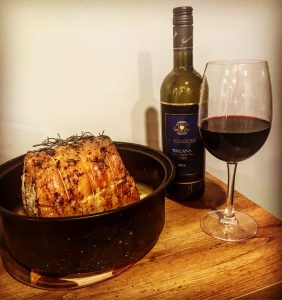 Serves: 4 to 6
3

pounds (1.3 kilograms) bone-in pork loin/rib roast

About 3

tablespoons extra-virgin olive oil

Salt and pepper

2

cloves garlic, finely chopped

Zest of 1 small lemon, finely grated

5

sage leaves, finely chopped

1 tablespoon of fresh rosemary

1

cup (250 ml) water or white wine (I used the Il Poggione Bianco!)
Directions:
Remove the pork from the fridge and let come to room temperature about an hour before preparing. In the meantime, cut along the bone as if you were going to cut the bone off completely, but leave about an inch still attached. Rub the pork all over with olive oil to coat. Season with salt and pepper.

Combine the finely chopped garlic, lemon zest, and herbs and rub this all over the incision made between the bone and the meat, patting down the herbs. Make a 1-inch incision between each rib bone and thread kitchen string/ butcher's twine through these incisions to tie the roast tightly and hold it together.

Place the roast on a metal cooling rack, inserted inside a deep baking tray, skin-side up. Pour water in the bottom of the tray (you can use white wine, and in this case, pour it all over the roast and let it drip into the tray). Roast for 3 1/2 to 4 hours at 195º F (90º C) – if you have a meat thermometer, you're looking for the interior to be about 150º F (65º C).

Remove from the oven, turn up the heat to 430º F (220° C) and cook another 5 minutes to crisp the skin. Rest for at least 15 minutes, uncovered, before slicing into thick slices and serving. This is wonderful with roast potatoes (possibly roasted in the pan juices under the pork) or sautéed greens.
I hope you enjoy these recipes and give the wine pairings a try! Tell us what you think on Facebook, Twitter or Instagram!
Buon Appetito,
Gaby