Years before I worked for Bishop's Cellar, I wandered into the shop on the Halifax waterfront one sunny Autumn day. I had just come back from a vacation in Italy and I was looking for a wine that I'd had at a wine bar in Florence. I could not remember the name of the wine or much about it, other than the fact that it was red and I liked it. A lot.
After patiently guiding me through the Italian wine section, I finally asked the Bishop's Cellar staff to tell me what Italian red wines they loved best. They sent me home with a bottle of Caparzo Brunello di Montalcino. From the first sip (I didn't smell wines much back then) the ripe fruit and grippy tannins were a lovely surprise. I still don't know if it was the same wine style that I'd had in Italy, but that bottle helped open a delicious door that eventually led me into the wine industry.
I was thinking about this experience a lot last month, over 8 years later, as my colleague Alanna and I prepared to host a group of Bishop's Cellar customers on a wine-drenched trip to Tuscany. From wandering through the stunning hilltop town of Montalcino to visiting beautiful local wineries, the area and the wines exceeded my expectations.
Reading the label
Brunello di Montalcino was one of the first four regions to received DOCG designations in 1980. All Brunello di Montalcino wines are produced from 100% Sangiovese Grosso in this beautiful corner of Tuscany.
Rosso di Montalcino
These are young, fresh wines often made from de-classified fruit.
Must age for 1 year before release- doesn't need to be in oak, but some producers utilize.
Brunello di Montalcino DOCG
Must spend a minimum of 2 years in oak
They don't release the wines until 5 years later.
Brunello di Montalcino Riserva DOCG
Must spend a minimum of 2.5 years in oak
They don't release the wines until 6 years later.
In the vineyard
As mentioned above, the wines of Brunello di Montalcino are produced from 100% Sangiovese Grosso AKA the Brunello Clone. Locally, the grape is often referred to as Prugnolo Gentile. Growers in the region initially thought Brunello was a grape indigenous to the local area, before agricultural science showed that that it was actually a special clone of the Sangiovese grape.
The Brunello di Montalcino DOCG includes over 24000 hectares of vines, but only 5000 hectares are authorized and planted with the intention to make Brunello. There are now over 250 producers making these wines, but the vast majority of producers (around 75%) are very tiny estates.
One estate that our group was lucky enough to visit was Azienda Agricola Palazzo, a beautiful family-owned operation surrounded by breathtaking views of Tuscan countryside. Our host Elia Loia, whose father founded the estate, helped us to understand the important role that the Conzorzio Brunello di Montalcino plays in regulating day-to-day vinicultural/viticultural operations for all members. It was fascinating to know that, due to the explosion of growth (known as the "Brunello Boom") between the late 1970's and early 2000's, there have been no more vineyards planted to make Brunello di Montalcino in the last 15 years! Producers may plant Sangiovese, of course, but they cannot make Brunello.
Soils are varied in Montalcino, with schist-based soils found in the the higher vineyards. Known as Galestro, these soils draw in water and keep it to nourish the vines. This is key because, as I learned from Elia on this trip, there's generally no irrigation permitted in this region.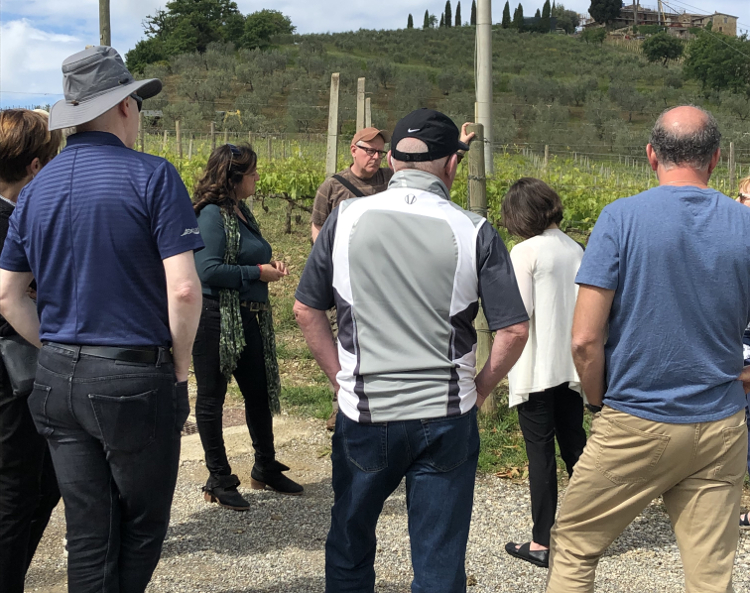 Our group of Maritimers learning about Brunello di Montalcino at Azienda Agricola Palazzo.
In the winery
Brunello di Montalcino wines typically see longer maceration times to extract deeper colour and more tannin profile from the grape skins. After that, the wine will move into oak for a minimum of 2 years.
Traditionally producers used large, well-used Slovenian oak barrels. The neutral oak imparts very little oak flavours (aka secondary characteristics) and instead allows the wine to develop more complex flavours from the wine's evolution over time (aka tertiary characteristics), like dried fruit and leather. Many producers still use these methods and there's been renewed interest in traditional styles in recent years. That said, several wine professionals in Tuscany told me that it can take 10+ years for a traditional Brunello wine's youthful flavours to evolve and harmonize.
Other winemakers have embraced more international oak techniques. Some producers will use smaller oak barrels (barriques) and shorter macerations to round out the wines. The resulting flavours are more along the lines of vanilla, dried black fruit and chocolate. Wines made in this style are also typically easier to drink while they are younger.
"New or traditional methods is a personal choice", emphasized Marchella Beltrami, our host at Fattoria La Gerla, adding that: "Each winery has a bit of freedom to choose". At La Gerla, they do a little of both- as evidenced by our walk through their barrel cellar. For example, the La Gerla Brunello di Montalcino is aged in the more traditional Slovenian barrels, while the La Gerla La Birba is aged in small, French barriques.
Regardless of ageing vessel, I think we can all agree that Brunello wines age incredibly well.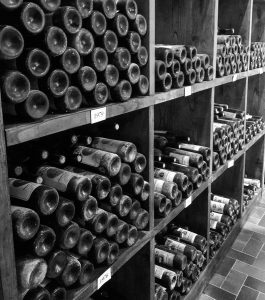 The wine library deep in the cellar at La Gerla.
In the glass
The wines of Brunello offer a richer expression of the Sangiovese grape with more pronounced tannin, extraction, and alcohol.
The smooth nature of the tannins and the overwhelmingly fruit-driven character are what makes these wines really appealing to many consumers. Meanwhile, the high acidity lends the wine an undeniably food friendly character.
No wonder Brunello's legacy endures- for wine lovers and collectors alike!